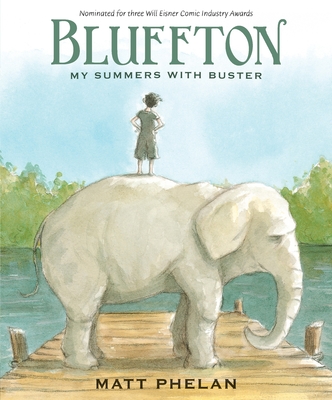 Bluffton (Paperback)
My Summers with Buster Keaton
Candlewick, 9780763687069, 232pp.
Publication Date: May 9, 2017
Other Editions of This Title:
Hardcover (7/23/2013)
Prebound (5/9/2017)
* Individual store prices may vary.
Description
"Thrilling — a spirited, poignant coming-of-age vignette and an intriguing window into a little-known chapter in vaudeville history." — Kirkus Reviews (starred review)

In 1908, a visiting troupe of vaudeville performers is about the most exciting thing to come to Muskegon, Michigan, since baseball. They're summering in nearby Bluffton, so Henry has a few months to ogle the elephant and the zebra, the tightrope walkers, and — best of all — a slapstick actor his own age named Buster Keaton. Henry longs to learn to take a fall like Buster, "the human mop," but Buster just wants to play ball with Henry and his friends. With his signature nostalgic touch, Scott O'Dell Award–winning graphic novelist Matt Phelan illuminates a bygone era with lustrous color, dynamic lines, and flawless dramatic pacing.
About the Author
Praise For Bluffton: My Summers with Buster Keaton…
Thrilling—a spirited, poignant coming-of-age vignette and an intriguing window into a little-known chapter in vaudeville history.
—Kirkus Reviews (starred review)

Phelan's watercolors are expertly rendered and soft in focus, but pop at just the right moments, simultaneously showing the sleepiness of the town, the glamour of show business, and the energy of summer. ... Bluffton is a rich and engaging story with a lot of charm, and will be a great choice for early chapter-book readers and graphic-novel fans.
—School Library Journal (starred review)

Phelan's soft, pastel watercolors perfectly depict the idyllic lakeside summer as well as the riotous circus antics and elaborate pranks Buster and his family pull, both on and off the stage. There's enough background about vaudeville, Buster Keaton, and the real-life Actors' Colony in Bluffton to make this an informative glimpse into American history, but it's compellingly, solidly centered on Henry's discovery that, while the grass on the other side may appear greener, more exciting, and full of the thrill of fame, the grass on his own side, where he's happy being himself, is just as good.
—Booklist (starred review)

Historical detail, a rich sense of place, expert pacing — Phelan keeps all the plates in the air in this fictionalized recreation of the boyhood summers of Buster Keaton.
—Publishers Weekly (starred review)

Phelan, whose appended author's note indicates he is a lifelong Keaton fan, carefully balances the joy of his subject's outrageous pranks (rigging the walls of an outhouse to suddenly coming apart, surprising its occupant) with poignancy, including the agonized expressions on Buster's face when his drunk father berates him. The fictional elements weave seamlessly together with the historical ones for a look into the past that will surely win Buster Keaton some twenty-first-century fans.
—The Horn Book (starred review)

This graphic novel illustrates this simple story of a boy finding his true self with soft watercolor illustrations, using words only when necessary. The work has an overall charm and simplicity that goes with its time period.
—Library Media Connection

Wonderfully evocative... With a beautiful economy of phrase and image, Mr. Phelan shows Henry's happiness in the company of his glamorous friend but also the jealousy that begins to trouble him.
—The Wall Street Journal

Matt Phelan presents a beautifully illustrated, nuanced story of how the friendship between Henry and Buster stretches them both in unexpected and sometimes challenging ways. ... The evocative watercolor illustrations also are a visual treat as they underscore the impact that Buster has on Henry's life.
—Scripps Howard News Service (syndicated)

[A] gorgeous graphic novel...
—Newsday