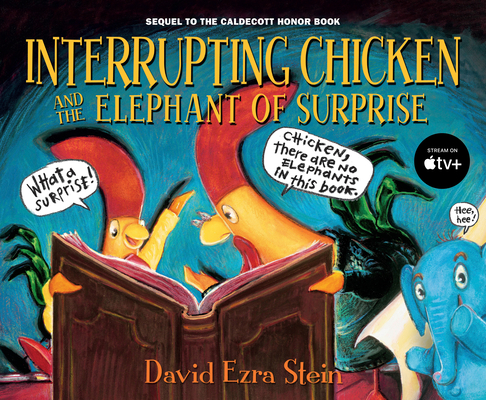 Interrupting Chicken and the Elephant of Surprise (Hardcover)
Candlewick, 9780763688424, 40pp.
Publication Date: September 11, 2018
* Individual store prices may vary.
Fall 2018 Kids Indie Next List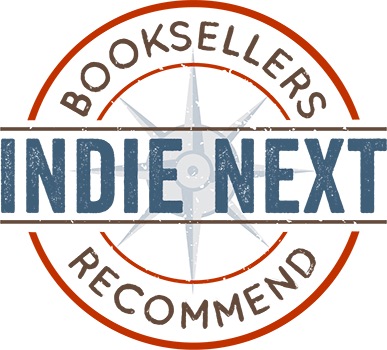 "Every story time fan's favorite over-excited chicken is back. This time, as instructed by her teacher, Interrupting Chicken is on a mission to find the 'Elephant of Surprise' in every story. And if it's not there she's going to put it there. I just sat at my desk and laughed. It's everything a real and proper kid's picture book should be. I can't wait to put
Interrupting Chicken and the Elephant of Surprise
into people's hands."
— Amy Brabenec, Brookline Booksmith, Brookline, MA
View the List
Description
Surprise! The little red chicken is back — and as endearingly silly as ever — in David Ezra Stein's follow-up to the Caldecott Honor–winning Interrupting Chicken.

It's homework time for the little red chicken, who has just learned about something every good story should have: an elephant of surprise. Or could it be an element of surprise (as her amused papa explains)? As they dive in to story after story, looking for the part that makes a reader say "Whoa! I didn't know that was going to happen," Papa is sure he can convince Chicken he's right. After all, there are definitely no elephants in "The Ugly Duckling," "Rapunzel," or "The Little Mermaid" — or are there? Elephant or element, something unexpected awaits Papa in every story, but a surprise may be in store for the little red chicken as well. Full of the same boisterous charm that made Interrupting Chicken so beloved by readers, this gleeful follow-up is sure to delight fans of stories, surprises, and elephants alike.
About the Author
David Ezra Stein is the author-illustrator of many picture books, including Interrupting Chicken, which was awarded a Caldecott Honor, I'm My Own Dog, Ice Boy, and Dinosaur Kisses. He lives with his family in Kew Gardens, New York.
Praise For Interrupting Chicken and the Elephant of Surprise…
Stein's art is rich, textured and varied. Like 'King Alice,' this book features stories within stores. All with elephants. Lots and lots of elephants, each of them, as advertised, surprising.
—The New York Times Book Review

Stein contrasts the richly colored, comfortable scenes at home with the pale, restrained traditional storybook illustrations, which are in turn jolted by the addition of the colorful, comical Elephant of Surprise and Chicken herself. Following the same basic structure as the original story, this sequel is fresh, funny, and satisfying in its own way. A treat for Interrupting Chicken fans.
—Booklist (starred review)

Stein masterfully builds suspense with each imbedded story, for a gag that only gets more fun with each reveal.
—Publishers Weekly (starred review)

The prose matches the vibrancy of the illustrations with humorous dialogue between Chicken and her patient Papa. Multiple award-winning author and illustrator Stein has created a noteworthy title for library shelves in addition to his already beloved collection of picture books. A terrific choice for one-on-one and small group sharing.
—School Library Journal (starred review)

Stein's mixed-media illustrations allow the narrative styles to bounce back and forth between silly and serious, showing both wacky and cozy moments and honoring the warm, loving relationship between Chicken and her caregiver. Like its Caldecott Honor–winning predecessor Interrupting Chicken, this story centers on one extended gag; but many will enjoy giggling at it again and again, likely with a grownup of their own.
—The Horn Book

Little Chicken is back, and her metafictive editorial impulses are as strong as ever...fans of the two loving characters will be delighted to see them again. Unsurprisingly good.
—Kirkus Reviews

The father's amused exasperation [in Interrupting Chicken and the Elephant of Surprise], the child's delight, the wordplay and the exuberant artwork all combine to make this picture book at once a celebration of love and language and an entertainment that will stand up to many, many bedtime readings. Some jokes never get old.
—The Wall Street Journal