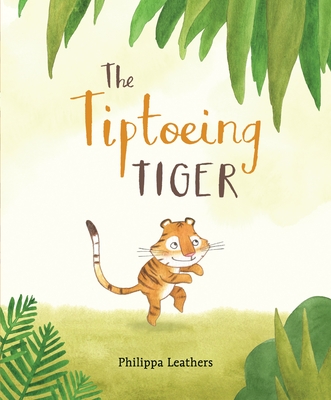 The Tiptoeing Tiger (Hardcover)
Candlewick, 9780763688431, 32pp.
Publication Date: February 6, 2018
* Individual store prices may vary.
Description
Every child who has ever crept up behind someone and shouted "roar!" will enjoy this utterly adorable story with a gentle final twist.

Everyone knows that tigers are sleek, silent, and totally terrifying . . . most tigers, that is. But no one is afraid of Little Tiger. He's just too small and clumsy to frighten anyone. Determined to prove that he is terrifying, Little Tiger sets out on tiptoe, creeping through the forest to find someone to scare. He gets yawned at and laughed at, but Little Tiger won't give up. Is there any animal in the forest who will find him just as sleek, silent, and totally terrifying as the bigger tigers?
About the Author
Philippa Leathers is a freelance animator and illustrator, as well as the author-illustrator of The Black Rabbit and How to Catch a Mouse. She lives in England with her husband and their family.
Praise For The Tiptoeing Tiger…
Leathers' watercolors are clean and sweet, create a delicate forest setting, and keep the "terrifying" to readers' imaginations. Nicely paced, comfortably told, and not altogether predictable: a winner.
—Kirkus Reviews

The appealing artwork, watercolor and pencil with digital elements, suggests the setting simply, while letting viewers concentrate on the interactions between Little Tiger and the other characters. Whether shared with an individual child or a story-hour group, this amusing picture book has an engaging hero whose dilemma will resonate with young children.
—Booklist

Competency and mastery can be high-stakes topics in picture books, and Leathers's low-key approach is refreshing. Her digitally assembled pencil-and-watercolor images are vividly populated and dashed with whimsy.
—Publishers Weekly

Leathers's pencil and watercolor illustrations are a perfect combination of uncluttered detail, great expressions, muted colors, and adorableness. They complement the fun-to-read text in the best possible way. Kids will immediately connect with Little Tiger whose plight and cuteness cannot be denied. A good choice for storytimes or individual sharing and a first purchase for most libraries.
—School Library Journal

…[A] charmingly understated tale of failed ferocity… The little tiger's good humor and Ms. Leathers's comically suspenseful text make this storybook ideal for repeated reading aloud.
—The Wall Street Journal