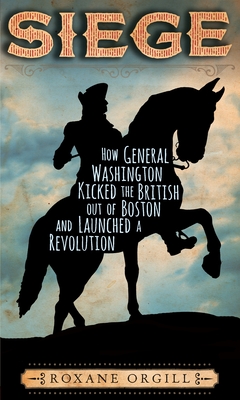 Siege
How General Washington Kicked the British Out of Boston and Launched a Revolution
Hardcover

* Individual store prices may vary.
Description
Step back to British-held Boston and hear the voices of citizens, militiamen, and redcoats at a turning of the tide in the American Revolution, brought to life in Roxane Orgill's deft verse.

It is the summer of 1775. The British occupy Boston and its busy harbor, holding residents captive and keeping a strong military foothold. The threat of smallpox looms, and the town is cut off, even from food supplies. Following the battles of Lexington and Concord, Congress unanimously elects George Washington commander in chief of the American armed forces, and he is sent to Cambridge, Massachusetts, to transform the ragtag collection of volunteer militiamen into America's first army. So far the war is nothing more than a series of intermittent skirmishes, but Washington is in constant fear of attack — until he takes the offensive with results that surprise everyone, the British most of all. Roxane Orgill uses verse to zoom in on the siege of Boston that launched the war to defeat the British, giving voice to privates and generals, their wives and city residents. to tell a story that is usually overlooked in Revolutionary War history. Back matter includes source notes, a glossary, and a bibliography.
Praise For Siege: How General Washington Kicked the British Out of Boston and Launched a Revolution…
This is a nonfiction account of Washington forcing the British out of Boston but written in verse. It is done quite well; the poetry adds to the level of interest around the events described and the book includes detailed references to the sources used.
—School Library Connection

A gateway book to the American Revolution for reluctant readers and fans of Hamilton.
—School Library Journal
Candlewick, 9780763688516, 240pp.
Publication Date: March 6, 2018
About the Author
Roxane Orgill is an award-winning writer on music and the author of several books for children, including the Boston Globe–Horn Book Award winner Jazz Day: The Making of a Famous Photograph, illustrated by Francis Vallejo, as well as Skit-Scat Raggedy Cat: Ella Fitzgerald, illustrated by Sean Qualls, and Footwork: The Story of Fred and Adele Astaire, illustrated by Stéphane Jorisch. Roxane Orgill lives in Dobbs Ferry, New York.