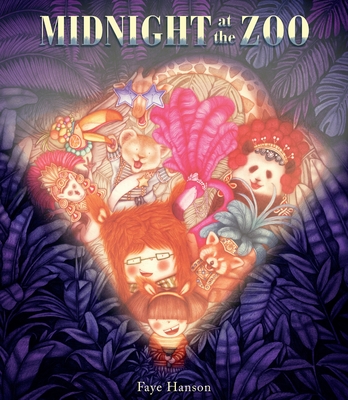 Midnight at the Zoo
Hardcover

* Individual store prices may vary.
Description
What happens at the zoo when all the people have gone home?

Max and Mia are very excited about their school trip to the zoo. But when they arrive, not much is happening: the zebra is asleep, the lions are hiding, and they can't even see a monkey. Max and Mia make the best of it — after all, if you look very carefully, there is something to see everywhere. But when they are accidently locked in the zoo at night, they realize that midnight is when the zoo comes alive! Flamingos are doing the flamenco, the lions dance till dawn, and the pandas have a party. Morning comes all too soon and it's time to go home, but Max and Mia will never forget their night in the zoo!
Praise For Midnight at the Zoo…
Colorful, precise, and whimsical digitally colored pencil illustrations abound with delightful comic details...Festooned with feathers, jewels, and flowers, the previously hidden animals treat Max and Mia (and readers) to a visually extravagant, spectacular celebration. An exuberant, surprising, and unforgettable trip to the zoo.
—Kirkus Reviews (starred review)

Hanson isn't a quick visual read—her decorative style and expansive, detail-laden scenes demand focus from readers. But for those willing to expend the effort, the rewards are both satisfying and stylish.
—Publishers Weekly
Templar, 9780763689087, 48pp.
Publication Date: June 6, 2017
About the Author
Faye Hanson graduated from the Cambridge School of Art in 2008. She is the author-illustrator of The Wonder. She lives in England.