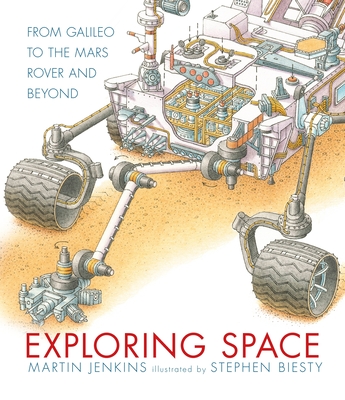 Exploring Space
From Galileo to the Mars Rover and Beyond
Hardcover

* Individual store prices may vary.
Description
Launch into a truly out-of-this-world examination of the past, present, and future of humans in space.

For centuries, humans have looked up at the night sky and wondered what it's like deep in space, far from Earth — and now we've begun to find out. We've landed on the moon, put robots on Mars, and sent space probes billions of miles to explore the far reaches of our solar system. Told in richly detailed cutaway illustrations by Stephen Biesty and friendly, engaging writing by Martin Jenkins, here is the enthralling story of how we made the great leap into space and what we've discovered there. Find out what life is like on the International Space Station, what the chances are that we will ever settle on Mars, where in the solar system we might find alien life, and why visiting other stars will almost certainly remain a dream. Budding astronomers, junior astronauts, and anyone who has ever gazed up at the stars in fascination will pore over this beautifully intricate yet accessible glimpse of the infinite wonders of space.
Praise For Exploring Space: From Galileo to the Mars Rover and Beyond…
In exceptionally clear prose, Jenkins surveys the history and possible future of space exploration...The subject matter is thrilling on its own, but this expert portrayal of the facts makes it all the more captivating. Space-mad kids will want to browse this again and again.
—Booklist (starred review)

Biesty's eye for exact, precise detail is well in evidence in the illustrations...he offers riveting depictions of space gear and craft with every last scientific instrument and structural element visible and labeled.
—Kirkus Reviews

This attractive volume, with Stephen Biesty's signature detailed illustrations, may look like a coffee table/gift book, but it's got serious textual chops...This will be appreciated by readers who want the big picture on space travel—either as an intro to a new topic of interest or as a brushup on information previously acquired piecemeal and out of context.
—Bulletin of the Center for Children's Books

The careful and thorough presentation, both in the text and images, offers valuable information for readers fascinated by humanity's efforts to study and explore the stars.
—Publishers Weekly

The highlights of this book are the beautiful, detailed illustrations, all of which are labeled and with many that show cutaway angles...This is a book for space lovers and is recommended for those needing books that provide in-depth detail on this topic.
—School Library Connection

In clear, concise and interesting language, he takes us from the ancient astronomers...to the latest ideas about building a space elevator to make settlement possible on Mars.
—Buffalo News

For kids fascinated by the expansive universe, Exploring Space: From Galileo to the Mars Rover and Beyond offers an excellent guide to what's beyond the Earth's atmosphere and how we have gathered this information. Martin Jenkins's lively explanations and Stephen Biesty's dynamic and detailed illustrations work together to elucidate some epic feats of engineering...
—Washington Post

Jenkins's commentary is clear and conversational yet sophisticated...The intricate illustrations accompanying the text are a marvel...They evoke the precision and detail of engineering schematics, but with clever design decisions in layout, detail, and color that make each image friendly and inviting.
—Horn Book

Readers ages 8-13 keen to know more about the history and practicalities of space travel may enjoy "Exploring Space: From Galileo to the Mars Rover and Beyond" (Candlewick, 64 pages, $17.99) by Martin Jenkins. In lieu of photographs, this lucid and appealing book is full of warm-hued, fine-lined pictures by Stephen Biesty, who uses cutaways to show the inner workings of rockets, space suits, interstellar craft and an imagined settlement under the rosy soil of Mars.
—The Wall Street Journal
Candlewick, 9780763689315, 64pp.
Publication Date: June 13, 2017
About the Author
Martin Jenkins is a conservation biologist who has written many celebrated books for children, including The Emperor's Egg, illustrated by Jane Chapman, and Can We Save the Tiger?, illustrated by Vicky White. Martin Jenkins lives in England.

Stephen Biesty is an artist and the creator of the award-winning Cross-Section books. He has also illustrated many other books for young readers, including The Story of Buildings, written by Patrick Dillon, and Into the Unknown, written by Stewart Ross, which received a Boston Globe–Horn Book Honor. Stephen Biesty lives in England with his family.