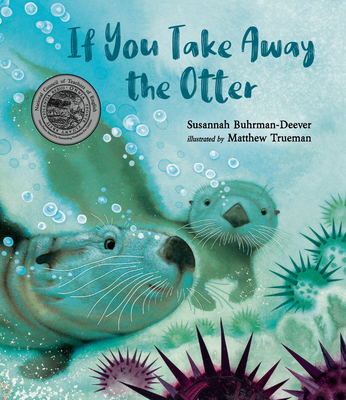 If You Take Away the Otter
Hardcover

* Individual store prices may vary.
Description
When the sea otters disappear, why does their kelp forest habitat disappear, too?

On the Pacific Coast of North America, sea otters play, dive, and hunt for sea urchins, crabs, abalone, and fish in the lush kelp forests beneath the waves. But there was a time when people hunted the otters almost to extinction. Without sea otters to eat them, an army of hungry sea urchins grew and destroyed entire kelp forests. Fish and other animals that depended on the kelp were lost, too. But when people protected the sea otters with new laws, their numbers began to recover, and so did the kelp forests. Susannah Buhrman-Deever offers a beautifully written account of a trophic cascade, which happens when the removal of a single element affects an entire habitat. Asides that dig deeper are woven throughout Matthew Trueman's dynamic illustrations, starring a raft of charismatic sea otters. Back matter includes more information about sea otters and kelp forests, including their importance and current status, the effects of the international fur trade on indigenous peoples, and a list of books and websites for readers who wish to continue to explore.
Praise For If You Take Away the Otter…
Trueman paints the scene, concentrating on an otter family threatened by formidable harpoons from an abstractly rendered person in a small boat, with a sailing ship in the distance. "People do not always understand at first the changes they cause when they take too much." Sea urchins take over; a page turn reveals a barren landscape. Happily, the story ends well when hunting stops and the otters return…and with them, the kelp forests. A simple but effective look at a keystone species.
—Kirkus Reviews

Seaweed, snails, shrimp, fish, eagles, and the "kings of these forests"—sea otters—make up this ecosystem's food web. Facts about each species wind through the illustrations, which portray adorable (somewhat anthropomorphized) otters in a peaceful ocean environment. But, as Buhrman-Deever warns, this wasn't always the case...The disequilibrium is portrayed dramatically in Trueman's gauzy underwater illustrations.
—The Horn Book

The luminous illustrations and clear text help young readers understand the causes and effects of the otter fur trade. The book's large type will appeal to younger readers. Facts printed in small type are suited for experienced readers...A solid purchase for all public and elementary school libraries.
—School Library Journal

Buhrman-Deever explains how, starting in the 1700s, Russian explorers in Alaska nearly drove the otter to extinction through hunting for the international fur trade. Her vivid descriptions relate the devastating consequences on the ocean forest until a 1911 treaty protected the remaining otters. While larger text tells the story and smaller text adds important details, blue- and green-hued illustrations resembling watercolors highlight the habitat's richness.
—Booklist
Candlewick, 9780763689346, 32pp.
Publication Date: May 26, 2020
About the Author
Susannah Buhrman-Deever, a biologist with a Ph.D. in animal behavior, is the author of Predator and Prey. In addition to her academic work and writing, she has developed inquiry-based ecology curricula for children. Susannah Buhrman-Deever lives with her family in upstate New York.

Matthew Trueman is the illustrator of several books for children, including In the Past by David Elliott, Hippos Are Huge!by Jonathan London, and One Beetle Too Many by Kathryn Lasky. He lives in Phillipsburg, New Jersey.