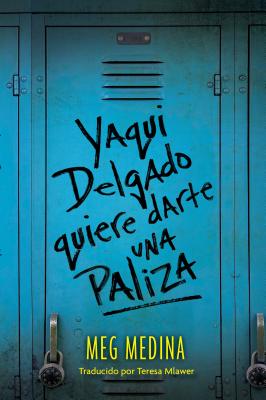 Yaqui Delgado quiere darte una paliza (Hardcover)
Candlewick, 9780763689926, 304pp.
Publication Date: March 8, 2016
Other Editions of This Title:
Paperback, Spanish (3/8/2016)
* Individual store prices may vary.
Description
In Meg Medina's compelling novel, a Latina teen is targeted by a bully at her new school—and must discover resources she never knew she had.

Una mañana antes de ir a clase, una niña le dice a Piddy Sánchez que Yaqui Delgado la odia y que quiere darle una paliza. Piddy ni siquiera sabe quién es Yaqui, y mucho menos qué es lo que ha hecho para hacerla enfadar. Se dice que Yaqui piensa que Piddy es una estirada, que se menea al caminar y que no es lo suficiente latina dada su piel blanca, sus buenas calificaciones y su falta de acento. Y Yaqui no bromea, así que mejor que Piddy se cuide su espalda. En un principio, Piddy está más preocupada por saber más sobre su padre al que nunca conoció y cómo equilibrar los cursos de honores y su trabajo de fin de semana en el salón de belleza de su barrio. Pero, a medida que el hostigamiento aumenta, el hecho de evitar a Yaqui y a su pandilla empieza a ganar terreno y a ocupar un lugar importante en la vida de Piddy. ¿Existe alguna forma de que Piddy sobreviva sin aislarse o sin escapar? En esta novela fuertemente realista, Meg Medina retrata a una heroína solidaria que es forzada a decidir quién es verdaderamente.
About the Author
Meg Medina es la autora de The Girl Who Could Silence the Wind (La Niña que Pudo Callar al Viento) y del libro de niños Tía Isa Quiere un Carro, con ilustraciones de Claudio Muñoz, el cual obtuvo el Premio Ezra Jack Keats como Nuevo Escritor. Como hija de inmigrantes cubanos, Meg creció en Queens, Nueva York, y ahora vive en Richmond, Virginia.