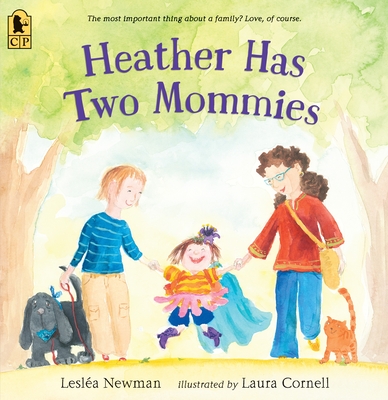 Heather Has Two Mommies (Paperback)
Candlewick, 9780763690427, 32pp.
Publication Date: August 9, 2016
Other Editions of This Title:
Paperback (6/1/2000)
* Individual store prices may vary.
Description
"Each page is artfully and distinctly rendered to be a visual depiction of the beauty of joy and diversity." — School Library Journal

Heather's favorite number is two. She has two arms, two legs, two pets—and two mommies. When Heather goes to school for the first time, someone asks her about her daddy, but Heather doesn't have a daddy. Then something interesting happens. When Heather and her classmates all draw pictures of their families, not one drawing is the same. This delightful edition for a new generation of young readers features fresh illustrations by Laura Cornell and an updated story by Lesléa Newman.
About the Author
Praise For Heather Has Two Mommies…
It's hard to fathom now the scorn and fear this mild-mannered tale of a girl and her two moms occasioned when it was published in 1989. With attractive new art by Cornell, life in their 'little house with a big apple tree in the front yard' looks pretty idyllic, and the first day of school is fun, too...
—The New York Times

"Heather has two mommies—and a new look! Newman's picture book about Heather and her mommies first appeared 25 years ago as the product of desktop publishing and a determination to create a story reflecting family diversity. This updated version includes new illustrations by the commercially successful Cornell, which supply humor and avoid lesbian stereotypes that dogged earlier versions. . . . Welcome back to Heather and her mommies."
—Kirkus Reviews

The author's text is simple yet powerful in its ability to move readers of all ages. Cornell's fluid watercolor and gouache illustrations breathe life into this delightful story. Each page is artfully and distinctly rendered to be a visual depiction of the beauty and joy of diversity.... Readers will be warmed by this glimpse into Heather's family, whether revisiting the text or experiencing it for the first time.
—School Library Journal

The details are different, but the nontraditional-ness is held in common.
—The Horn Book

Though a quarter of a century has passed, the book holds up well. With new illustrations and a slightly revised text, it remains a charming, sweet-spirited story that still fills a need...Newman and her new illustrator Cornell deserve kudos for bringing fresh life to this standard title.
—Booklist Online

Now a modern classic, the children's book "Heather Has Two Mommies" is the perfect Mother's Day book, times two.
—Los Angeles Times