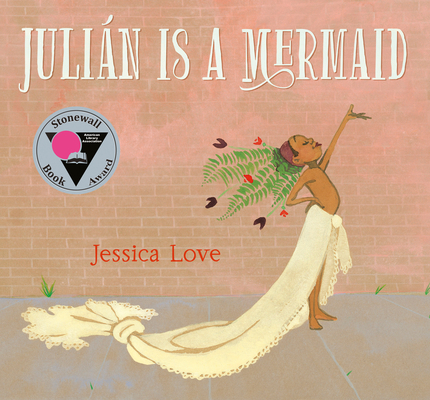 Julián Is a Mermaid (Hardcover)
Candlewick, 9780763690458, 40pp.
Publication Date: April 23, 2018
* Individual store prices may vary.
Summer 2018 Kids Indie Next List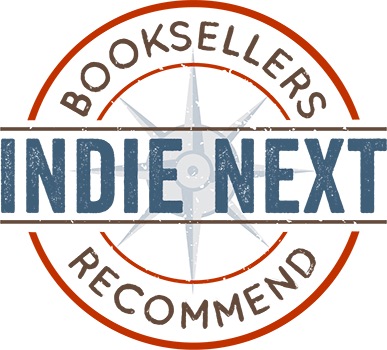 "A beautiful and light-hearted story for every kind of fanciful and imaginative kid! Jessica Love's illustrations are absolutely gorgeous and perfectly portray Julián's wish to be a magical creature. This is a delightfully simple story that explores gender expression and individuality. Careful details also help communicate Julián's fear of revealing his identity to his abuela, an important representation of emotions that kids need to help them handle all kinds of situations."
— Johanna Albrecht, McIntyre's Books, Pittsboro, NC
View the List
Description
Winner of a 2019 Stonewall Book Award

In an exuberant picture book, a glimpse of costumed mermaids leaves one boy flooded with wonder and ready to dazzle the world.

While riding the subway home from the pool with his abuela one day, Julián notices three women spectacularly dressed up. Their hair billows in brilliant hues, their dresses end in fishtails, and their joy fills the train car. When Julián gets home, daydreaming of the magic he's seen, all he can think about is dressing up just like the ladies in his own fabulous mermaid costume: a butter-yellow curtain for his tail, the fronds of a potted fern for his headdress. But what will Abuela think about the mess he makes — and even more importantly, what will she think about how Julián sees himself? Mesmerizing and full of heart, Jessica Love's author-illustrator debut is a jubilant picture of self-love and a radiant celebration of individuality.
About the Author
Jessica Love is an illustrator and a New York based actor. She has a BA in studio art from the University of California, Santa Cruz, as well as a graduate degree from Juilliard.
Praise For Julián Is a Mermaid…
This is Jessica Love's debut picture book, and every choice she makes — the spare text, a color palette both muted and lively, full-bleed pages that make even subway cars and apartment rooms feel as expansive as the ocean — imbues the story with charm, tenderness and humor…Alongside Julián, readers learn that anyone can be a mermaid: All it takes is love and acceptance, a little imagination and a big swishy tail.
—The New York Times Book Review

Love couples the spare narrative with vivid, imaginative, and breathtaking illustrations. A heartwarming must-have for one-on-one and small group sharing.
—School Library Journal (starred review)

Refreshingly, Spanish words aren't italicized. Though it could easily feel preachy, this charmingly subversive tale instead offers a simple yet powerful story of the importance of being seen and affirmed.
—Kirkus Reviews (starred review)

[Julian] is, in a word, fabulous. Love lets an anxious beat pass before Abuela takes Julián by the hand, leading him to what some readers may recognize as the Coney Island Mermaid Parade. "Like you, mijo," says Abuela. "Let's join them." Love's deep empathy for her characters and her keen-eyed observations of urban life come together in a story of love, understanding, and embracing the mermaid within us all.
—Publishers Weekly (starred review)

The luminous, lovely, and layered art is what really makes the book...The concluding parade is a confectionary wonder of marine fantasy that many kids will yearn to join, and it might prompt adults to set up their own in- library mermaid celebrations. More importantly, though, those who've been shy about their love for dazzle and showmanship will love the idea of a formidable grandparental ally, and they will find this encouraging and empowering.
—Bulletin of the Center for Children's Books (starred review)

Julián's emotional journey takes on depth through small but important details: a wary look in the mirror, a slight inward slump of the shoulders, a chin held high while marching down the street. Love uses vibrant watercolors with gouache and ink and a lively style to create scenes that splash and swirl to life on the page.
—The Horn Book (starred review)

Across her watercolor, gouache and ink spreads, Love captures the transformative power of being seen...Love's affecting combination of the literary and the visual results in a powerful affirmation of individuality, creative expression and unconditional acceptance.
—Shelf Awareness for Readers (starred review)

Love's painted scenes glow against muted backgrounds, with saturated, opaque tones tracing the graceful shapes of the figures. They're especially striking when Julián gets swept away in a vivid underwater fantasy: a school of sea creatures whirls around him as he transforms into a mermaid. That scene is nicely replicated when he arrives at the parade, which is populated by scores of people in a wide variety of inventive costumes. The affectionate depiction of a broad range of body types and skin tones makes this particularly cheery.
—Booklist

This beautiful book is one of the very few picture books about a gender non-conforming child. Yet it feels like a celebration of all children who want to do things differently than the parental figures in their lives—and a love letter to the grownups who deeply understand them.
—Gothamist

There is nothing about this book that is forgettable. In fact, you may have a hard time not thinking long and hard about it after you put it down. A book for mermaids and boys and girls and parents and teachers and booksellers and librarians and . . . Let's just simplify things and say it's a book for the human race.
—Betsy Bird

Jessica Love's vivid watercolor and gouache illustrations are made even brighter by her decision to paint on brown paper; the richly colored palette pops off the pages, and abundant character is conveyed via the subtlest of facial expressions and body language. Also subtle—and terrifically poignant—is the eloquent encouragement of Abuela's spare words. A book for the ages, Julián Is a Mermaid is going to make a big splash.
—BookPage

The illustrations couldn't be more beautiful, and I love how Julián's grandmother accepts him for exactly who he is...I'm so grateful for books like these that help foster acceptance and understanding from a young age.
—A Cup of Jo (blog)

Julián Is a Mermaid makes a fine addition to the best LBGT children's books.
—Brain Pickings (blog)

Groundbreaking...here's a happy picture book that challenges traditional gender stereotypes, rendering one boy free to be himself.
—San Francisco Chronicle

Right now, I just finished reading 'Julián Is a Mermaid,' by Jessica Love, which is an awesome picture book, one of my favorites, and I won't spoil the end for you, but it has something to do with the mermaid parade.
—Charles George Esperanza, The New York Times

It's a story of a little boy who is taken with some elegant costumes, and decides to fashion one of his own. It's that simple, but it makes a big impression; I can't recommend it highly enough.
—The New York Times Book Review e-newsletter