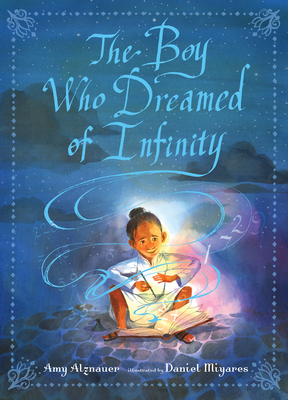 The Boy Who Dreamed of Infinity
A Tale of the Genius Ramanujan
Hardcover

* Individual store prices may vary.
Other Editions of This Title:
Compact Disc (4/14/2020)
Description
A young mathematical genius from India searches for the secrets hidden inside numbers — and for someone who understands him — in this gorgeous picture-book biography.

A mango . . . is just one thing. But if I chop it in two, then chop the half in two, and keep on chopping, I get more and more bits, on and on, endlessly, to an infinity I could never ever reach.

In 1887 in India, a boy named Ramanujan is born with a passion for numbers. He sees numbers in the squares of light pricking his thatched roof and in the beasts dancing on the temple tower. He writes mathematics with his finger in the sand, across the pages of his notebooks, and with chalk on the temple floor. "What is small?" he wonders. "What is big?" Head in the clouds, Ramanujan struggles in school — but his mother knows that her son and his ideas have a purpose. As he grows up, Ramanujan reinvents much of modern mathematics, but where in the world could he find someone to understand what he has conceived?

Author Amy Alznauer gently introduces young readers to math concepts while Daniel Miyares's illustrations bring the wonder of Ramanujan's world to life in the inspiring real-life story of a boy who changed mathematics and science forever. Back matter includes a bibliography and an author's note recounting more of Ramanujan's life and accomplishments, as well as the author's father's remarkable discovery of Ramanujan's Lost Notebook.
Praise For The Boy Who Dreamed of Infinity: A Tale of the Genius Ramanujan…
The perceptive text offers anecdotes that enable readers to see many sides of Ramanujan, portraying him as a genius who, driven to pursue his passion, produced work of lasting value. Miyares uses colored inks skillfully, creating vivid, imaginative scenes that help viewers envision Ramanujan's story and its setting. An illuminating picture-book biography of a fascinating, singular figure in the history of mathematics.
—Booklist (starred review)

Alznauer is a mathematician herself, and her loving tribute evokes Ramanujan's early years with rich and authentic detail, which Miyares' luminous compositions bring vividly to the page...A fascinating story beautifully told.
—Kirkus Reviews (starred review)

Alznauer deftly uses Ramanujan's ponderings to illustrate complex mathematical concepts, including prime numbers, partitions, and infinite sums. Despite his brilliance (or perhaps because of it), Ramanujan struggles: "?'I am like the first man in the world with no one to hear me speak,' he thought." Eventually, his genius is recognized—and his work still sparks wonder among mathematicians today. Lush watercolors by Miyares capture the lyrical details of Ramanujan's world.
—Publishers Weekly (starred review)

The lively, delicate ink drawings capture the sights, colors, and culture of India and, on some pages, depict numbers playfully cavorting, just as they tumbled in Ramanujan's brain. Best for talented math students and others who enjoy exploring favorite subjects independently. Recommended for schools and large public collections; useful where STEM biographies are needed.
—School Library Journal

This eloquently written picture-book biography gives voice to the brilliant—and self-taught—mathematician Srinivasa Iyengar Ramanujan...Miyares's ink-wash illustrations play with light and dark in realistic scenes and whimsical number-filled spreads.
—The Horn Book
Candlewick, 9780763690489, 48pp.
Publication Date: April 14, 2020
About the Author
Amy Alznauer is an author of poetry, essays, and nonfiction for children. Her adult memoir Love & Salt won a Christopher Award. She is also on the mathematics faculty at Northwestern University, where she teaches calculus and number theory. She lives in Chicago.

Daniel Miyares is the author and illustrator of several books for young readers, including Night Out, Bring Me a Rock!,and Float. He is the illustrator of Little Fox in the Snow by Jonathan London. He lives in Lenexa, Kansas.