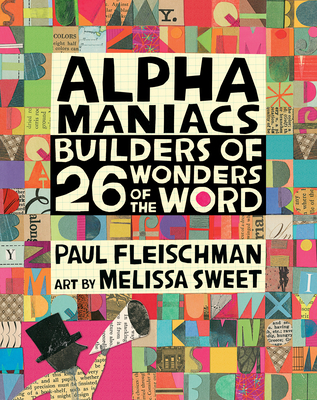 Alphamaniacs
Builders of 26 Wonders of the Word
Hardcover

* Individual store prices may vary.
Description
Are you a word person? A curiosity seeker? An explorer? Take a look at these twenty-six extraordinary individuals for whom love of language is an extreme sport.

Step right up and read the genuine stories of writers so intoxicated by the shapes and sound of language that they collected, dissected, and constructed verbal wonders of the most extraordinary kind. Jean-Dominique Bauby wrote his memoirs by blinking his left eyelid, unable to move the rest of his body. Frederic Cassidy was obsessed with the language of place, and after posing hundreds of questions to folks all over the United States, amassed (among other things) 176 words for dust bunnies. Georges Perec wrote a novel without using the letter e (so well that at least one reviewer didn't notice its absence), then followed with a novella in which e was the only vowel. A love letter to all those who love words, language, writing, writers, and stories, Alphamaniacs is a stunningly illustrated collection of mini-biographies about the most daring and peculiar of writers and their audacious, courageous, temerarious way with words.
Praise For Alphamaniacs: Builders of 26 Wonders of the Word…
The ebullient charms both of Fleischman's breezy accounts and of the work of those profiled are considerable...for anyone who enjoys words, or books themselves, there's much to love here in the catalog of serious and silly ways in which language and letters have been deployed, reworked, analyzed, and improved on. The backmatter includes source notes and a list of resources for "Further Entertainment." Marvelously diverting.
—Kirkus Reviews (starred review)

Thoughtful design elements extend into the back matter, where stylish alphabet blocks set off sources and bibliographic notes. Roaming today's school hallways are tomorrow's philologists, and the Alphamaniacs may be just the Dream Team to inspire them.
—Bulletin of the Center for Children's Books (starred review)

Each individual is given a brief chapter recounting their word-related exploits, interleaved with colorful, collaged illustrations by Sweet that look like stray pages from an artist's overstuffed sketchbook, incorporating relevant quotes and amplifying Fleischman's themes of abundance and possibility. A unique amalgam, one that will charm many.
—Publishers Weekly

The stories...are told in a playful, conversational style, supplemented by Sweet's gorgeous mixed- media illustrations that, along with an attractive layout and high-quality paper, result in a beautiful object of a book...an alluring gift for dedicated word nerds.
—Booklist

It's a quirky little gift to word lovers...The book is colorful and lavish with drawings, paintings, and prints. The wit and joy that went into the creation of this title is evident.
—School Library Connection

In an age driven by images, this book is an anomaly. Its audience is language lovers. Even though Fleischman's gushing writing style gets in the way of his own love for the subject, the book has unusual appeal and is beautifully produced.
—School Library Journal
Candlewick Studio, 9780763690663, 160pp.
Publication Date: April 14, 2020
About the Author
Paul Fleischman is the author of many books for children, including the Newbery Medal–winning Joyful Noise: Poems for Two Voices. With Candlewick Press, he is the author of Weslandia, The Dunderheads, The Matchbox Diary, and Eyes Wide Open. He lives in Monterey, California.

Melissa Sweet has illustrated nearly one hundred books for children, including the Caldecott Honor books The Right Word: Roget and His Thesaurus and A River of Words: The Story of William Carlos Williams. With Candlewick, she is the illustrator of Baabwaa and Wooliam and Firefly July: A Year of Very Short Poems. Melissa Sweet lives in Rockport, Maine.