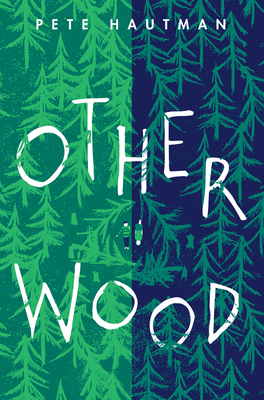 Otherwood
Hardcover

* Individual store prices may vary.
Other Editions of This Title:
Digital Audiobook (9/10/2018)
Paperback (10/20/2020)
Compact Disc (9/11/2018)
Compact Disc (9/11/2018)
MP3 CD (9/11/2018)
Description
A 2019 Edgar Award Winner!

What happened in the woods that day? Pete Hautman's riveting middle-grade novel touches on secrets and mysteries — and the power of connections with family and friends.

"Hatred combined with lies and secrets can break the world." Grandpa Zach used to say that before he died, but Stuey never really knew what he meant. It was kind of like how he used to talk about quantum physics or how he used to say ghosts haunted their overgrown golf course. But then one day, after Stuey and his best friend, Elly Rose, spend countless afternoons in the deadfall in the middle of the woods, something totally unbelievable happens. As Stuey and Elly Rose struggle to come to grips with their lives after that reality-splitting moment, all the things Grandpa Zach used to say start to make a lot more sense. This is a book about memory and loss and the destructive nature of secrets, but also about the way friendship, truth, and perseverance have the ability to knit a torn-apart world back together.
Praise For Otherwood…
Shy Stuey and just-short-of-bossy Elly Rose are likable, their friendship believable and moving. Infused with the magic of the unknown, the eerie wilderness entices them, and readers, inside. An intensely atmospheric ghost story and elegy for a vanished world: spellbinding.
—Kirkus Reviews (starred review)

As evocative as a David Almond novel, and as infused with heartache and affirmation, Stuey's story will set imaginations spinning with possibilities about other worlds, ancient sins, and the power of truth.
—Publishers Weekly (starred review)

Explaining the implications of concurrent realities is not an easy task, but one Hautman handles skillfully. His fluid writing and lush descriptions of the natural world carry the story, even when questions of how and why remain. Readers will race to the end to learn how it all untangles.
—Booklist

Hautman plays with time and reality, spitting the story into two narratives, Stuey's and Elly's. The story lines touchingly merge for a satisfying conclusion. The main characters are likable and thoughtfully developed, with intelligence and flashes of humor.
—School Library Journal

This mind-bending mystery plays right into questions entertained by children and adults alike at least since Schrödinger introduced the possibility of multiple, simultaneous realities...By confining each of the main characters to his or her own universe and linear time, Hautman limits confusion, pays homage to the power of imagination fueled by nature, and explores middle-grade-friendly possibilities of agency, faith, courage, and friendships that have the power to heal generational wounds.
—Bulletin of the Center for Children's Books

There's a rip in the space-time continuum, and two ordinary kids have to repair it. Trickier still is making such a feat seem believable for the reader. It is a trick that Mr. Hautman pulls off magnificently in this thought-provoking story. Readers ages 8-14 may find themselves mulling over the enigmatic ideas it raises long after they've finished the book.
—The Wall Street Journal

This is an intricately woven and affecting novel about the power of true friendship, the corrosiveness of secrets and guilt, and the mysterious possibilities of the world.
—The Horn Book

Hautman has woven a story rich with forest lore and an understanding of the fragility of wild spaces near the city. The ache of loss also permeates this story, for lost friendships and lost wildness, even as the characters look to mend what's broken.
—Star Tribune
Candlewick, 9780763690717, 320pp.
Publication Date: September 11, 2018
About the Author
Pete Hautman is the author of many books for young adults and adults, including the National Book Award–winning Godless, the Klaatu Diskos trilogy, and Eden West. His most recent book for middle-grade readers is Slider, which Booklist lauded for its "crystalline prose, delectable detail, and rip-roaring humor." Pete Hautman divides his time between Wisconsin and Minnesota.