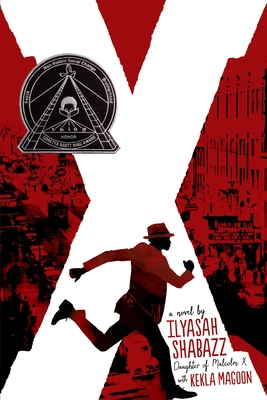 X
A Novel
Paperback

* Individual store prices may vary.
Other Editions of This Title:
Hardcover (1/6/2015)
Description
"A completely absorbing novel. . . . Readers for whom pre-civil rights America is ancient history will find this poetic interpretation eye-opening and riveting." — Kirkus Reviews (starred review)

Malcolm Little's parents have always told him that he can achieve anything, but from what he can tell, that's a pack of lies. There's no point in trying, he figures, and lured by the nightlife of Boston and New York, he escapes into a world of fancy suits, jazz, girls, and reefer. But Malcolm's efforts to leave the past behind lead him into increasingly dangerous territory. X follows the boy who would become Malcolm X from his childhood to his imprisonment for theft at age twenty, when he found the faith that would lead him to forge a new path and command a voice that still resonates today.
Praise For X: A Novel…
Shabazz and Magoon expertly guide the reader by presenting loaded scene after loaded scene.... The result is a satisfying (and appropriate) complexity.
—The New York Times Book Review

A completely absorbing novel... Readers for whom pre-civil rights America is ancient history will find this poetic interpretation eye-opening and riveting.
—Kirkus Reviews (starred review)

This fictionalized account of the boy who became Malcolm X maintains a suspenseful, poetic grip as it shifts among moments in his life between the years 1930 and 1948. ... A compelling coming-of-age story.
—Publishers Weekly (starred review)

An eye-opening look at an important historical figure. The author's honesty about his early troubles serves to convey that it is possible to rise through adversity to make a positive difference in this world. A worthwhile addition to any collection.
—School Library Journal (starred review)

Although this is a work of fiction, it's strongly tethered to the facts, to the people and events that contributed to Malcolm's world view and his path to becoming a leader. Malcolm's voice is often funny, always perceptive, and as appreciative of beauty as he is critical of the disparity between the rights of whites and blacks.
—Shelf Awareness (starred review)

Shabazz and Magoon bring energy, immediacy, and emotional power to Malcolm's first-person, present-tense voice. Often painfully candid, the authors effectively depict Malcolm's lifetime of racial slurs and casual injustices, symbolized by the image of a lynched man hanging from a tree. It's a satisfyingly complete, never simplistic story of one young man's journey through trouble to the promise of a life of purpose and meaning.
—Booklist (starred review)

This could be a novel about any adolescent and his dark night of the soul, but it's in fact a powerful, fully credible reimagining of the young adulthood of Malcolm Little, who, after reaching rock bottom in prison for robbery, will discover a better path and a new identity as Malcolm X.
—Bulletin of the Center for Children's Books (starred review)

Thanks to the strength of the intimate first-person voice, readers experience right along with the adolescent Malcolm his thirst for experience, the seductive "siren call" of 1940s Roxbury and Harlem street life, his increasingly risky and dangerous choices, and finally his growing awareness of the impact of racism on his and his family's past and on his present and future.
—The Horn Book (starred review)

Riveting. ... Vivid. ... Malcolm's voice is often funny, always perceptive, and as appreciative of beauty as he is critical of the disparity between the rights of whites and blacks.
—Shelf Awareness

This skillfully rendered novel traces Malcolm X's life through flashbacks, from his father's death to his imprisonment and eventual understanding of his father's wisdom.... The publication of this book marks the 50th anniversary of Malcolm X's assassination (February 21) and is a worthy tribute to the man.
—BookPage

Shabazz and Magoon do a remarkable job generating atmosphere, balancing family love in the face of dire circumstances against the pulsating energy of a self-assured young man swaggering through Harlem streets in a fine zoot suit and a conk.... The story of a reckless young man finding himself, X: A Novel is historical fiction at its best —- an artistic exploration of a part of a renowned person's life , one that stays true to his time and place.
—Huffington Post

Malcolm inspired me with his eloquence, his wisdom, and his thirst for truth and righteousness. This powerful, page-turning story tells us how he discovered these qualities within himself.
—Muhammad Ali

Powerful and charming—makes you see things in a whole new way. One of the best books I've read in quite some time.
—Chris Rock

The inequality and injustice are vivid in this account, and this helps young adult readers today better understand what African Americans were subject to in the not-so-distant past.... This is a must-read introduction to his life for all youth to fully understand U.S. history during the twentieth century.
—Everyday eBook (blog)

I can't recommend this novel enough.
—Historical Novel Society

An unflinching retelling of [Malcom X's] autobiography
—School Library Connection

Exclusive cover reveal
—We Need Diverse Books
Candlewick, 9780763690922, 384pp.
Publication Date: August 2, 2016
About the Author
Kekla Magoon is the Margaret A. Edwards Award-winning author of more than a dozen books for young readers, including Fire in the Streets and How It Went Down. She is also the coauthor, with Ilyasah Shabazz, of X: A Novel, which was long-listed for the National Book Award and received an NAACP Image Award and a Coretta Scott King Honor. Kekla Magoon grew up in Indiana and now lives in Vermont, where she serves on the faculty at Vermont College of Fine Arts.

1. Instead of telling the story in chronological order, the author moves back and forth through time. What effect does this have on the story? Why is this important to the story?
2. Early in the story, Malcolm says "I am my father's son. But to be my father's son means that they will always come for me" (page 5). What do you think Malcolm means? How does this statement foreshadow everything that happens to him?
3. Malcolm buys a bus ticket to Boston, and in that moment he realizes "it takes less than a minute to buy a new life" (page 8). What do you think Malcolm means? How did that one action change Malcolm's life?
4. As Malcolm leaves for Boston, he reminisces about his biological family and his foster family and comes to the conclusion that leaving won't be very difficult. Why does he feel this way?
5. Malcolm refers to the influence Marcus Garvey had on both of his parents. What did Garvey stand for, and how can his influence be seen in the way Malcolm thinks?
6. When Malcom is very young, his parents tell him that he can be anything he wants to be. While Malcolm believes this for a while, he later decides that their counsel is not true. What causes Malcolm to turn away from his dreams?
7. In Chapter 3, Mr. Ostrowski shares his true opinion of Malcolm's potential. What effect does this conversation have on Malcolm, and how does it influence his future actions?
8. Upon Malcolm's arrival in Boston, his half-sister Ella wants him to experience the city before he gets a job. How does this change Malcolm?
9. Shorty tells Malcolm: "In this world, everything's a hustle. . . . If it doesn't look like a hustle, you got to look at it from another angle" (page 114). Why does hustling appeal to Malcolm so much? Why is he drawn to the world of the hustler?
10. Everyone seems willing to offer Malcolm credit at first. How does this become a problem for him later on?
11. Malcolm's family confronts him about his selling and using drugs, dating white women, and losing his job. How does Malcolm rationalize his actions, and what does this do to his relationship with his family?
12. When Malcolm works at Small's in Harlem, he listens as two men discuss "Negro improvement." Malcolm reasons that "Negroes don't need improvement. Real Negroes don't sit around and talk about how things should be and what they should have. Real Negroes go out and get some of their own" (page 253). How has Malcolm's life up to this point personified this sentiment? Why does he feel this way?
13. On May 19, 1943, Malcolm turns eighteen years old. How is he feeling about his life at this point in time?
14. Malcolm feels that it is inevitable that he will go to jail and claims "the whole court is out to get [him]" (page 322). Whom does Malcolm blame for his troubles and why?
15. 22843. With these numbers, Malcolm begins to look at his life in a new way. How does Malcolm see the world through these numbers?
16. After hearing and seeing Bembry in prison, Malcolm remembers that "words are a weapon" (page 331). What do these words mean to Malcolm, and how does he begin to change?
17. What impact does Elijah Muhammad have on Malcolm? How do his words change Malcolm?
18. Malcolm believes that everything in his life has led him to where he has arrived, to be a new man, to follow Islam, and to be ready to serve Allah. Do you agree or disagree? Why or why not?
19. The words "Up, up, you mighty race" resonate with Malcolm. How does he use these words to create a new life for himself and his people?
20. At the end of the story, Ilyasah Shabazz has added notes to explain many of the events that take place in this novel. Why did she choose to combine fiction and facts? What effect does this have on the story she has told?