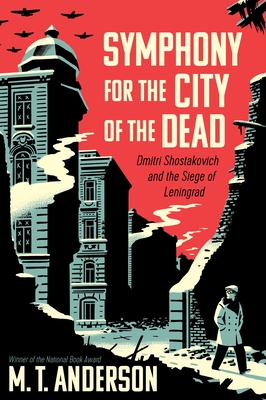 Symphony for the City of the Dead (Paperback)
Dmitri Shostakovich and the Siege of Leningrad
Candlewick, 9780763691004, 464pp.
Publication Date: February 7, 2017
Other Editions of This Title:
Hardcover (9/22/2015)
Pre-Recorded Audio Player (10/2/2015)
MP3 CD (2/7/2017)
Compact Disc (2/7/2017)
Compact Disc (9/22/2015)
Prebound (2/7/2017)
MP3 CD (9/22/2015)
Compact Disc (9/22/2015)
* Individual store prices may vary.
Description
"This ambitious and gripping work is narrative nonfiction at its best. . . . The book has all the intrigue of a spy thriller. . . . A must-have title with broad crossover appeal." — School Library Journal (starred review)

In September 1941, Adolf Hitler's Wehrmacht surrounded Leningrad in what was to become one of the longest and most destructive sieges in Western history—almost three years of bombardment and starvation. Trapped between the Nazi invading force and the Soviet government itself was composer Dmitri Shostakovich, writing a symphony to rouse, rally, eulogize, and commemorate his fellow citizens: the Leningrad Symphony. This is the true story of a city under siege, the triumph of bravery and defiance in the face of terrifying odds. It is also a look at the power—and layered meaning—of music in beleaguered lives. Symphony for the City of the Dead is a masterwork thrillingly told and impeccably researched by National Book Award–winning author M. T. Anderson.
About the Author
Praise For Symphony for the City of the Dead: Dmitri Shostakovich and the Siege of Leningrad…
The storytelling is captivating, describing how Shostakovich began composing the symphony under relentless bombardment in Leningrad and later finished it in Moscow, its triumphant performance in Leningrad during the siege, and how it rallied worldwide sympathy for Russia's plight. Music is at the heart of the story. As Anderson writes in the prologue, "it is a story about the power of music and its meanings," and he communicates them with seeming effortlessness in this brilliantly written, impeccably researched tour de force. A triumphant story of bravery and defiance that will shock and inspire.
—Kirkus Reviews (starred review)

In a gripping narrative, helped along by ample photos and shockingly accurate historical details, Anderson offers readers a captivating account of a genius composer and the brutally stormy period in which he lived. Though easily accessible to teens, this fascinating, eye- opening, and arresting book will be just as appealing for adults.
—Booklist (starred review)

This ambitious and gripping work is narrative nonfiction at its best...The book has all the intrigue of a spy thriller, recounts the horrors of living during the three year siege, and delineates the physical oppression and daunting foes within and outside of the city. This is also the story of survival against almost impossible odds. Through it all, Anderson weaves the thread of the composer's music and the role it played in this larger-than-life drama. A must-have title with broad crossover appeal
—School Library Journal (starred review)

Anderson brings his narrative A-game to this dense work of nonfiction, blending the complex strands of the story into a satisfying whole. Embellished with scores of photographs and peppered with the author's own commentary on the symphony, the text and supporting materials supply historical background for music enthusiasts and musical interpretation for history buffs. Source notes, index, and bibliography will aid report writers, but the most appreciative audience is likely to be engaged readers who settle into the tragic yet uplifting story of a suffering nation and its musical documentarian.
—Bulletin of the Center for Children's Books (starred review)

A fascinating...examination of an important musical figure living in a time of extraordinary political and social turmoil.
—Publishers Weekly

It culminates in a rich and moving understanding of the intersection of culture and history, and of the power of the arts to save a nation.
—Shelf Awareness

Symphony for the City of the Dead is an intense historical account that is highly recommended reading for anyone studying World War II or readers with an interest in history or music.
—VOYA

M.T. Anderson presents a thrilling history of music and the terrible events of World War II. Extensively researched and passionately told, Symphony for the City of the Dead exposes the strengths and weaknesses of humanity through an engrossing tale of war, art and undying creativity.
—BookPage

An ambitious work of nonfiction ... sweeping and emotionally charged.
—The Horn Book

...a sweeping work of narrative nonfiction for adolescent readers.
—The Wall Street Journal

A must-have for high-school classrooms and libraries. It's the work of an author who has never jumped onto any trend-wagon, but has instead followed his own keen intelligence toward a big, essential story.
—New York Journal of Books

[Anderson's] not just parading the events of Shostakovich's life before the reader; he's by the reader's side, helping them to make sense of what they see...It's been a while since a book about Shostakovich impressed me this much. Symphony for the City of the Dead is worth reading whatever your age.
—DSCH Journal

Fans of M.T. Anderson's National Book Award-winning YA novel, "The Astonishing Life of Octavian Nothing, Traitor to the Nation Volume 1" and acclaimed dystopian novel "Feed," will not be surprised at the brilliance of the writing and the meticulous research on display in this marvelous, compulsively readable biography of composer Dmitri Shostakovich and the great city that inspired his Seventh Symphony.
—The Buffalo News