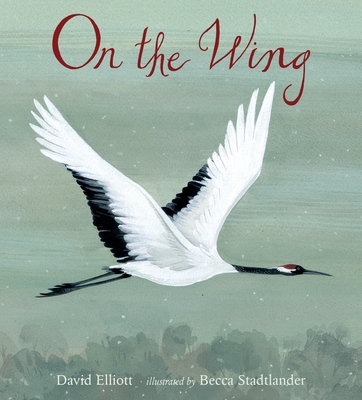 On the Wing (Paperback)
Candlewick, 9780763693022, 32pp.
Publication Date: March 28, 2017
Other Editions of This Title:
Hardcover (9/9/2014)
* Individual store prices may vary.
Description
"Poetry flutters across the pages of this lovely book. . . . Each poem is witty and thoughtful and enlivens its subject. . . . Every bird seems to come alive." — School Library Journal (starred review)

Take to the sky to explore a glorious array of all things avian, from the tiny, restless hummingbird to the inscrutable horned owl to the majestic bald eagle. David Elliott and Becca Stadtlander bestow a sense of wonder onto such common birdfeeder visitors as the sparrow, the crow, and the cardinal and capture the exotic beauty of far-flung fowl like the Andean condor, the Australian pelican, and the Caribbean flamingo.
About the Author
Praise For On the Wing…
Poetry flutters across the pages of this lovely book. ... Each poem is witty and thoughtful and enlivens its subject. The detailed acrylic illustrations complement the poems beautifully, and every bird seems to come alive on the spacious spreads. ... Many of the pieces have a rhythmic, chirping quality that make them perfect read-alouds. Bird lovers, poetry enthusiasts, and children looking for a fun read will flock to this stunning title.
—School Library Journal (starred review)

In this carefully planned book, readers simultaneously learn key facts about a variety of birds, absorb different forms of poetry and revel in beautiful artwork. ... The gouache artwork perfectly matches the varying tones and forms of the poetry, which ranges from the humorous one-sentence poem for the macaw to literary accolades for the albatross to philosophizing about the Andean condor's dark secrets. ... The power of good poetry glides along through the final three pages, which note that the bald eagle doesn't know the term "bird of prey / though he circles like a prayer // on the rising columns / of the shining, / sun-warmed air." From the graceful cranes flying across its wraparound cover to the single feather on the title page to the soaring eagle at the end, this book astounds.
—Kirkus Reviews (starred review)

Sixteen poems about birds are set against sumptuous landscapes. The poems range from brief, pithy, and humorous to more lyrical and serious. Elliott dedicates the book to Holly Meade, late illustrator of the first three volumes; Stadtlander here brings her own vision, varying palettes and settings to great effect in her rich gouache paintings, mostly double-page spreads. Readers will savor this simple but memorable investigation into the global avian experience.
—Horn Book

Elliott adds a celebration of birds to his collection of lighthearted animal poetry. ... Stadtlander paints the birds with meticulous care, framing them against majestic, muted backgrounds whose overcast skies lend a somber feel.
—Publishers Weekly

Elliott's delightful poetic picture book is versatile and lends itself as a brief introduction to birds, as an educational poetry book, as an art book of captivating illustrations, and as added entertainment in storytime.
—Booklist Online