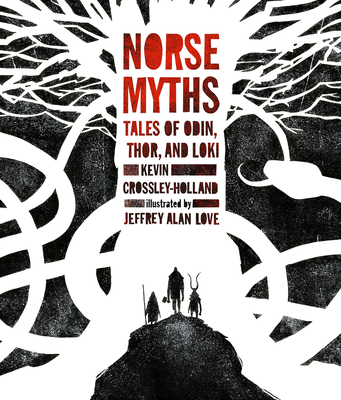 Norse Myths
Tales of Odin, Thor and Loki
Hardcover

* Individual store prices may vary.
Other Editions of This Title:
Digital Audiobook (10/11/2021)
Digital Audiobook (6/2/2021)
Digital Audiobook (10/4/2021)
Paperback (7/12/1981)
Description
Long-recognized master of Norse mythology Kevin Crossley-Holland pairs with award-winning artist Jeffrey Alan Love for an exceptional look at the Viking gods.

A collaboration by two talented creators provides the perfect means to delve into Norse mythology and pore over the enthralling exploits of all-powerful Odin; mighty Thor and his hammer, Mjolnir; and Loki, the infamous trickster. From the creation of the nine worlds to the final battle of Ragnarok, Carnegie Medal winner Kevin Crossley-Holland details the Viking gods as never before, while Jeffrey Alan Love's lavish illustrations bring the mythic figures to life on the page. Readers will be caught up in the seesawing struggle for power between gods, dwarfs, and giants, punctuated by surprising love matches, thrilling journeys, and dazzling magic. With its well-researched, lyrical prose and its dramatic and powerful artwork, this wonderful gift edition makes the perfect book for both the staunchest fans of mythology and newcomers with no knowledge of Viking folklore.
Praise For Norse Myths: Tales of Odin, Thor and Loki…
Crossley-Holland's inspired text is straightforward and largely unadorned in a way that makes it timeless. Meanwhile, Love's eye-popping expressionist illustrations, rendered in acrylics and ink, decorate almost every page, beautifully creating an often sinister atmosphere that expands the tone of the text. Together words and pictures work to memorable effect, doubtlessly inspiring their young readers to yell and cry. The myths have seldom been better served.
—Booklist (starred review)

The brutal, mischievous, and fascinating stories of Norse mythology unfold in lively and dramatic retellings, which introduce the gods and goddesses of Asgard, as well as the dwarves and giants of Midgard and Jotunheim.
—Publishers Weekly (starred review)

Twenty tales of gods, giants, and dwarfs, of mighty feats and epic trickery...the tales are...powerful in emotional resonance—not to mention chock-full of bold deeds, glittering treasures, and scary monsters. Lavishly illustrated and strongly atmospheric—as well suited for reading aloud as alone.
—Kirkus Reviews

Bold illustrations dominated by dark colors and intimidating shadows accompany each tale in this indispensable collection of Norse myths...Each story begins with a one-sentence summary of the myth's message, providing a useful tool for engaging students in lessons about summarizing. This is an essential purchase for middle and high school collections.
—School Library Connection

Brute power seems to emanate from the pages of 'Norse Myths: Tales of Odin, Thor, and Loki' (Candlewick Studio, 225 pages, $27.99), a collection of Viking stories retold with vigor and dash by Kevin Crossley-Holland. Jeffrey Alan Love's stunning illustrations here are so potent and menacing that they seem less to have been created with acrylic and ink than to have been hammered from iron.
—The Wall Street Journal

This stunning volume, heavily illustrated with somewhat gruesome, predominantly black acrylic and ink paintings in block print and silhouette style, provides an excellent introduction to Norse mythology. A good choice for middle and high school collections.
—School Library Journal

Crossley-Holland's stunning collection of Norse myths is gold for storytellers, educators, and Norse enthusiasts...This is a must have for storytellers and certainly a valuable classroom resource to begin units on mythology and culture; however you're using it, make sure students and listeners get a chance to view the gorgeous artwork.
—Bulletin of the Center for Children's Books
Candlewick Studio, 9780763695002, 240pp.
Publication Date: September 28, 2017
About the Author
Kevin Crossley-Holland is an award-winning author and well-known poet. The first book of his Arthur trilogy, The Seeing Stone, won the Guardian Children's Fiction Prize, and his novella Storm won the Carnegie Medal. He lives in England.

Jeffrey Alan Love is an award-winning artist and writer. He is the author-illustrator of Notes from the Shadowed City and the recipient of a gold medal from the Society of Illustrators. He lives in St. Louis, Missouri.