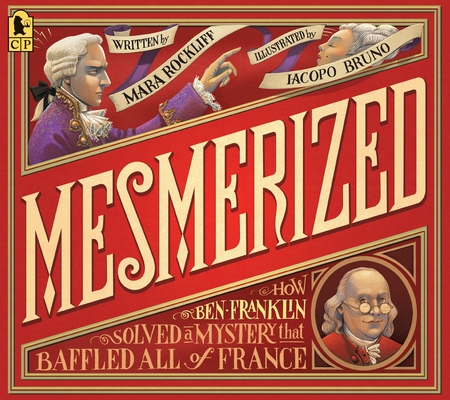 Mesmerized
How Ben Franklin Solved a Mystery that Baffled All of France
Paperback

* Individual store prices may vary.
Other Editions of This Title:
Hardcover (3/10/2015)
Prebound (9/12/2017)
Description
"Together, Rockliff and Bruno make the scientific method seem exciting, and kids interested in science and history will likely be, well, mesmerized." — Booklist (starred review)

When American inventor Benjamin Franklin arrives in Paris, he is upstaged by a compelling and enigmatic figure: Dr. Mesmer. In elaborately staged shows, Mesmer has Parisians believing he can control a magic force that changes the taste of water, cures illness, and controls thoughts! Can Ben Franklin's approach of observing, hypothesizing, and testing get to the bottom of Mesmer's tricks? A rip-roaring, lavishly illustrated peek into a fascinating moment in history shows the development of the scientific method — and reveals the amazing power of the human mind.
Praise For Mesmerized: How Ben Franklin Solved a Mystery that Baffled All of France…
A stylish and humorous exploration of the scientific method and the mysteries of the human mind.
—Publishers Weekly (starred review)

On brilliantly illustrated pages full of rococo details and beautifully calligraphed text, Rockliff tells the story of how Benjamin Franklin debunked Dr. Mesmer's magical cure-all. ... [Rockliff's] dramatic text is perfectly complemented by Bruno's lush, full-color illustrations, stuffed with period detail and sweeping ribbons and curlicues. Each page is teeming with personality... Together, Rockliff and Bruno make the scientific method seem exciting, and kids interested in science and history will likely be, well, mesmerized.
—Booklist (starred review)

Rockliff's lighthearted tone and lively writing style are enhanced by the use of different typefaces and print sizes, as well as a layout that will keep readers engaged throughout. Rockliff plays with words and rhythm, making this book an excellent choice for reading aloud. The artwork is infused with humor, and the individual's expressions throughout are a delight, from the look on the face of a swooning patient to Mesmer's own intense glare. There is much here to draw the eye and prod discussion. ... Overall, a wonderful and fun-filled title that introduces yet another facet of a fascinating man.
—School Library Journal (starred review)

Besides successfully explaining the scientific method, and what we've come to call the placebo effect, author and artist give children insight into human behavior—with a large dose of humor. For history buffs, science enthusiasts, and fans of a good story, this one hits all the marks.
—Shelf Awareness (starred review)

This ingenious book celebrates — and explains to children clearly — the basic principles of the scientific method, while also doubling as a peek into the astounding life of Benjamin Franklin.
—The New York Times

Rockliff's text is engaging and lively and pairs beautifully with Bruno's dramatic and bold illustrations, which fully conduct the audience's attention. There is no way a reader will escape the truly mesmerizing and energetic design.
—The Horn Book

Bruno's digitally colored pencil art lightly evokes period caricature and gently pokes fun at the ornate clothing and hair of French nobility. The tale is nicely pitched to emphasize the importance of a hypothesis, testing and verification, and several inset text boxes are used to explain these scientific tools. Rockliff points out that Franklin's blind-test technique is in use today for medical treatments, and both the placebo effect and hypnosis are studied today. Rockliff and Bruno's playful approach buoys solid science and history.
—Kirkus

"Mesmerized" has so much page-turning suspense that it feels ripe for adaptation and box office success.... Although the book sounds heavy with facts and theories, the story zips along thanks to Mara Rockliff's lively, dramatic writing that holds even young readers in its thrall. Iacopo Bruno's illustrations are stylishly elaborate, shown from shifting perspectives. And the pages are cleverly laid out to accommodate short bursts of information. It's not typical picture book problem, but this story might be just too thrilling for bedtime.
—The Boston Globe

Rockliff retells the episode with equal measures of gentle satire of aristocratic gullibility and tidy re- construction of the scientific method.
—Bulletin of the Center for Children's Books

With several educational themes—electricity, hypnosis, the placebo effect, the scientific method, and a good dose of American and French history—this mesmerizing picture book will fascinate as it entertains.
—Foreword Reviews

Rockliff writes with humor and flair. The illustrator captures well the time period, using playful fonts and elegant, detailed illustrations ... The spread introducing Dr. Mesmer is one of best you'll see this year
—Kirkus Reviews

This is a great way to introduce the scientific method to students; the illustrations and text are energetic and fun.
—School Library Connection

In a style that is both humorous and informative, Rockliff provides a context for Franklin's journey to France during the American Revolution at the time of a surge in interest in science.
—Literacy Daily
Candlewick, 9780763695156, 48pp.
Publication Date: September 12, 2017
About the Author