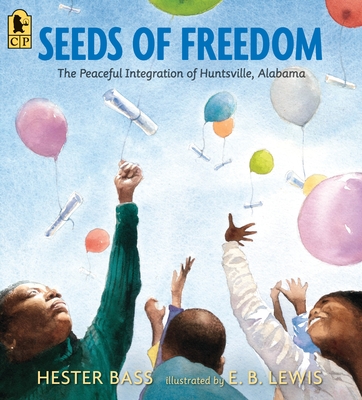 Seeds of Freedom
The Peaceful Integration of Huntsville, Alabama
Paperback

* Individual store prices may vary.
Other Editions of This Title:
Hardcover (1/27/2015)
Prebound (3/1/2018)
Description
"Unflinchingly honest and jubilantly hopeful, this is nonfiction storytelling at its best." — Publishers Weekly (starred review)

Mention the civil rights era in Alabama and most people recall images of terrible violence. But for the citizens of Huntsville, creativity, courage, and cooperation were the keys to working together to integrate their city and schools in peace. This engaging celebration of a lesser-known chapter in American and African-American history shows how racial discrimination, bullying, and unfairness can be faced successfully with perseverance and ingenuity.
Praise For Seeds of Freedom: The Peaceful Integration of Huntsville, Alabama…
An engrossing and heart-wrenching history... Bass's forthright, passionate prose and Lewis's searing, expansively imagined watercolors take readers to a time and place when the New Frontier's rockets heralded American exceptionalism and pride, while bigotry and discrimination were justified as "just the way it is." ... Unflinchingly honest and jubilantly hopeful, this is nonfiction storytelling at its best.
—Publishers Weekly (starred review)

The use of present tense gives a great sense of immediacy to the text as it transports readers into the past to watch events unfold. The relatively peaceful changes in Huntsville are briefly contrasted with the violence in Birmingham around the same time. Capturing the period with finesse, Lewis' expressive watercolor paintings record the events and settings in beautifully composed scenes. His portrayal of people is particularly fine, conveying the personalities, attitudes, and emotions of individuals as well as the essential dignity of the nonviolent protesters. A valuable introduction to the civil rights period.
—Booklist (starred review)

Bass writes in the present tense with a conversational tone... She includes details that will resonate with children while also imparting an inspirational message, tinged with her own civic pride (she is a former resident of Huntsville), about community activism. ... A book that is as quietly inspiring as its subject.
—Kirkus Reviews

Lewis's trademark watercolor paintings pair perfectly with this lyrical recounting of events, and he masterfully moves between detailed illustrations depicting faces of grim determination of lunch counter patrons to the more impressionistic scenes of protesters facing water hoses. The book covers quite a bit of ground, both in time and content and can be long for a read-aloud, but it's well worth the time to share such a moving, inspirational story.
—School Library Journal

Making good use of the title metaphor, Bass does an excellent job of acknowledging difficulties—and harrowing events in other parts of the South—and work still to be done, while also emphasizing the "nonviolence and dignity, and cooperation and courage" of a community that carefully nurtured freedom, from seeds gently sown to "sweet fruit." Lewis's lovely, realistic paintings depict time and place, underscoring both the steely determination and soaring hopefulness of ordinary people dedicated to initiating change. Both informative and rousing, this book is a solid choice for studies of the civil rights movement and more generalized discussion of peaceful protest and the effectiveness of grass-roots efforts.
—SLJ Curriculum Connections

E.B. Lewis's watercolor illustrations depict the town, streets, and people with revealing heartfelt emotions but also representing civic pride in their community. This informative picture book shows a community creatively coming together without resorting to violence.
—Literacy Daily

Throughout this engaging story about Huntsville's peaceful uprising, Bass skillfully intertwines the history of the civil rights movement. Lewis's watercolor illustrations portray momentous events like snapshots in a photo album. "Seeds of Freedom" is a stirring revelation of how the skirmishes and successes of one community caused a giant ripple across the nation.
—Children's Bookwatch

An extraordinarily powerful true story, this selection is a must-read.
—from Kendal Rautzhan
Candlewick, 9780763695163, 32pp.
Publication Date: January 2, 2018
About the Author