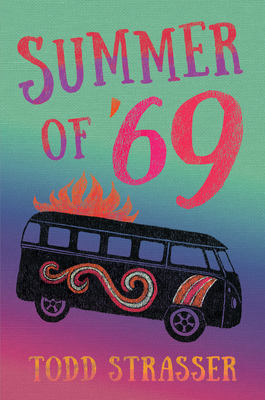 Summer of '69
Hardcover

* Individual store prices may vary.
Description
Drawing from his teenage years, Todd Strasser's novel revisits a tumultuous era and takes readers on a psychedelically tinged trip of a lifetime.

With his girlfriend, Robin, away in Canada, eighteen-year-old Lucas Baker's only plans for the summer are to mellow out with his friends, smoke weed, drop a tab or two, and head out in his microbus for a three-day happening called the Woodstock Music and Art Fair. But life veers dramatically off track when he suddenly finds himself in danger of being drafted and sent to fight in Vietnam. If that isn't heavy enough, there's also the free-loving (and undeniably alluring) Tinsley, who seems determined to test Lucas's resolve to stay faithful to Robin; a frighteningly bad trip at a Led Zeppelin concert; a run-in with an angry motorcycle gang; parents who appear headed for a divorce; and a friend on the front lines in 'Nam who's in mortal danger of not making it back. As the pressures grow, it's not long before Lucas finds himself knocked so far down, it's starting to look like up to him. When tuning in, turning on, and dropping out is no longer enough, what else is there?
Praise For Summer of '69…
Strasser perfectly captures the golden haze of youth and life on the cusp of adulthood. Readers fascinated with this time period will find much to enjoy. All main characters are white, but Lucas' African-American conscientious objector counselor, Charles, offers his perspective on the war and the treatment of African-American soldiers. Vietnam, Woodstock, road trips, and acid trips: a sweetly bittersweet, surprising, even melancholy bildungsroman set against a world in flux. Groovy, man.
—Kirkus Reviews

Strasser's protagonist is a riveting character—funny, yet also pitiful; foolish, yet justifiably frightened; self destructive, yet at his core self aware. The seedy glamor of the counterculture is on display, but so is the looming question, "What if that were me?"
—Bulletin of the Center for Children's Books

The picture painted of the Woodstock music festival shows the dark side of peace and love, and the prevalence of drugs is on almost every page, though at times the use of psychedelics seems excessive. The best part of the book, however, is the one that transcends eras: Lucas' introspection as he contemplates his place in the world.
—Booklist Online

Strasser convincingly depicts the experience of the war and the opposition to it, the hippie culture of Woodstock, and the reality of using drugs. Much of the book is based on his personal experience as he explains in the author's note. Strasser realistically portrays Lucas coming of age in the tumultuous free love defined by Woodstock.
—ALAN (blog)

Letters from Robin and a friend serving in Vietnam, newspaper headlines, and notices from the draft board provide ballast to Lucas's self-centered perspective, as do his meetings with Charles, a Black draft counselor who gets Lucas to step outside of his own experience and see Vietnam as a "working-class war" that rich white kids evade by going to college while Black and blue-collar white kids get killed. An author's note discusses the personal roots of Strasser's tale.
—The Horn Book
Candlewick, 9780763695262, 384pp.
Publication Date: April 9, 2019
About the Author
Todd Strasser is the internationally best-selling author of more than one hundred books for children and teens, including Fallout and The Beast of Cretacea, as well as the classics The Wave and Give a Boy a Gun, which are taught in classrooms around the world. He lives in Westchester County, New York.
1. An unpopular war divides the nation, astronauts land on the moon, music lovers converge on Woodstock — the summer of 1969 was anything but uneventful. What do you think was the most important event of that summer for Americans in general? What was the most important event for Lucas in particular? Why?
2. "The paterfamilias" is how Lucas usually refers to his father. Why does he use this instead of a typical name, like Dad?
3. How does your understanding of Lucas's father evolve over the course of the novel? What do you think of Mr. Baker at the beginning of the book? What have you decided about him by its end? Is he a good man? Why?
4. Lucas goes from being a slightly chubby preteen to a strikingly handsome young man. Did this "Semi-Miraculous Transformation" change Lucas's life for the better or the worse? Why?
5. "Do enough drugs, and reality becomes a moving target," Lucas decides (page 22). How would you describe Lucas's drug use? Why are drugs so attractive to Lucas and his friends? Why are they so dangerous?
6. Why is Chris Dodson the only one of Lucas's friends who has enlisted in the army? What does Chris's father think of antiwar protestors? How effectively does Lucas respond to Mr. Dodson's criticisms of the peace movement?
7. America has waged several wars since Vietnam, but the U.S. Armed Forces no longer drafts young people into military service. Try to imagine what might happen in your community if the draft were reinstated. Would antiwar sentiments increase? Why?
8. Discuss Lucas's relationship with his mother. What qualities do they share? What experiences separate them? How does each cope with adversity?
9. "I believe you're growing up," Lucas's mother says to her son after a family argument (page 200). Why does she choose that particular moment to tell him this? How is this confrontation with his father different from earlier confrontations?
10. "Our concern for his well-being was the only thing left that we had in common," Lucas says about his family's feelings for his special needs brother, Alan (page 264). Do you agree? What role does Lucas play in Alan's life?
11. In one of his poems, Lucas asks, "How could it be/That someone so smart and pretty/Could be into me?" (page 8) What does Robin see in Lucas? Why does she break up with him? Why does Lucas refuse to give up on their relationship?
12. "Monogamy," Tinsley says, "is just another stupid male paradigm foisted on women to keep us subservient. Why can't women be as free with our proclivities as men?" (page 83) What is your answer to her question?
13. Lucas wonders if, "despite all his long-haired antiestablishment airs, he was, deep down, pitifully middle-class" (page 90). Do you think Lucas has changed in this way? What does it mean to be antiestablishment? Why does Lucas think it is pitiful to be middle-class?
14. What are the significant advantages that Lucas has enjoyed throughout his life? Why is it hard for him to recognize them?
15. "You don't get it, Arno," Lucas insists (page 285). "You're never gonna get it." Arno is convinced that long hair, bell-bottoms, peace symbols, and other aspects of hippie life are just passing fads. "We'll see who doesn't get it," Arno answers. Who ends up predicting the future more accurately, Lucas or Arno? Why?
16. "An ocean of freaks — by far the most enormous crowd I've ever seen — is spread over the broad face of a gradually sloping hill" (page 323). This is Lucas's first impression of Woodstock. What made the music festival so important to Lucas and his friends? Why do you think it became a symbol of their generation?
17. A half century has passed since 1969. How has life changed for American teenagers in those fifty years? How has it remained the same?
18. Reread the poems scattered throughout the book. Which is your favorite? Why? Do you think Lucas has what it takes to become as successful a writer as his creator, Todd Strasser?