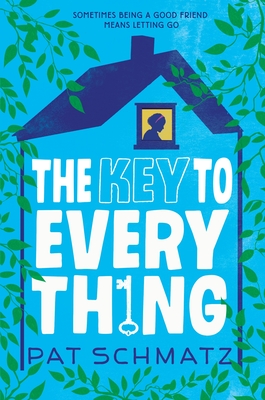 The Key to Every Thing (Hardcover)
Candlewick, 9780763695668, 208pp.
Publication Date: May 8, 2018
Other Editions of This Title:
Compact Disc (5/8/2018)
Compact Disc (5/8/2018)
MP3 CD (5/8/2018)
* Individual store prices may vary.
Description
For eleven-year-old Tash, Cap'n Jackie isn't just the elderly next-door neighbor — she's family. When she disappears, only Tash holds the key that might bring her back.

Tash didn't want to go to camp, didn't want to spend the summer with a bunch of strangers, didn't want to be separated from the only two people she has ever been able to count on: her uncle Kevin, who saved her from foster care, and Cap'n Jackie, who lives next door. Camp turns out to be pretty fun, actually, but when Tash returns home, Cap'n Jackie is gone. And Tash needs her — the made-up stories of dolphin-dragons, the warm cookies that made everything all right after a fight, the key Cap'n Jackie always insisted had magic in it. The Captain always said all Tash had to do was hold it tight and the magic would come. Was it true? Could the key bring Cap'n Jackie back? In a heartfelt and stunningly written story, Pat Schmatz introduces readers to a tenacious, fiercely loyal girl struggling to let go of the fantasies and fears of her childhood . . . and say yes to everything that lies ahead.
About the Author
Pat Schmatz is the author of the critically acclaimed Bluefish as well as Lizard Radio, which won the James Tiptree, Jr. Literary Award for exploring and expanding the understanding of gender. Pat Schmatz lives in Minneapolis.
Praise For The Key to Every Thing…
The novel will take some readers outside their comfort zones, into the sometimes scary arena of health care facilities and the never-easy subject of death. But the strong presentation of Tash's viewpoint is reassuring, and so is the straightforward depiction of her discomfort, anger, jealousy, remorse, reconciliation, and sadness. A simply written, emotionally resonant narrative.
—Booklist (starred review)

The author skilfully creates empathy for the prickly Tash, a complex and challenging character...Readers will relate to Tash's grit in finding a way to deal with life when it doesn't go to plan.
—BayViews

Traumatized by past neglect at the hands of an alcoholic parent, an "almost-sixth-grader" faces her phobia of being alone after her elderly friend is injured...Tash's volatile emotions and Kevin's gentle steadiness ring true, adding dimension to the tear-jerking trope...A bittersweet but hopeful take on loss, trauma, and the many meanings of family.
—Kirkus Reviews

The book unfurls some information with deliberate slowness rather than relying on immediate contextual explanation, which lends authenticity to the experience of stepping into the middle of somebody's life. Ultimately, this is a touching story about human connections both lost and found, and it will be suitable as a chapter-by-chapter readaloud as well as a readalone.
—Bulletin of the Center for Children's Books

Readers will find here an emotional punch; a nuanced and character-driven plot that doesn't stray from a middle-grade perspective; and a thoughtful exploration of grief and pain—and family ties that strengthen through both.
—The Horn Book

An emotional read likely to appeal to sensitive middle grade souls, affirming with positive normalcy the familial roles of lesbian and gay adults.
—School Library Journal

Schmatz (Lizard Radio) captures the uncertainty and turbulent emotions of a girl struggling with change and loss while examining the value of found family.
—Publishers Weekly

This is an engaging story that shows the bonds of friendship that can exist between different generations and the love of family and friends. Every young person will be able to relate to Tash having lashed out at someone they love and then seeking forgiveness. This realistic book shows that with love, compassion, and even a little magic, things can work out in the long run.
—School Library Connection