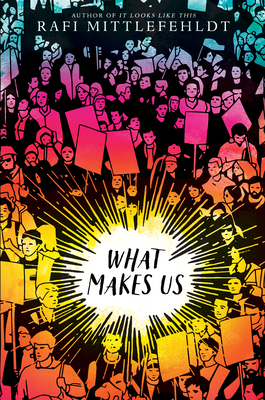 What Makes Us
Hardcover

* Individual store prices may vary.
Other Editions of This Title:
Digital Audiobook (10/14/2019)
Paperback (5/11/2021)
MP3 CD (10/15/2019)
Compact Disc (10/15/2019)
Description
A viral video reveals a teen's dark family history, leaving him to reckon with his heritage, legacy, and identity in this fiery, conversation-starting novel.

Eran Sharon knows nothing of his father except that he left when Eran was a baby. Now a senior in high school and living with his protective but tight-lipped mother, Eran is a passionate young man deeply interested in social justice and equality. When he learns that the Houston police have launched a program to increase traffic stops, Eran organizes a peaceful protest. But a heated moment at the protest goes viral, and a reporter connects the Sharon family to a tragedy fifteen years earlier — and asks if Eran is anything like his father, a supposed terrorist. Soon enough, Eran is wondering the same thing, especially when the people he's gone to school and temple with for years start to look at him differently. Timely, powerful, and full of nuance, Rafi Mittlefehldt's sophomore novel confronts the prejudices, fears, and strengths of family and community, striking right to the heart of what makes us who we are.
Praise For What Makes Us…
What Makes Us is a heart-stopping, heartbreaking read — a book full of heart. Mittlefehldt's thoughtful, nuanced exploration of identity pulled me in from the very first page, and I could barely put it down. Eran's story takes a universal coming-of-age theme — finding out your parents aren't who you thought they were — to a tightly wound and thrilling extreme. Most important, this book provides satisfying, much-needed representation of a contemporary, complex Jewish teen and his family.
—Lisa Rosinsky, author of Inevitable and Only

This coming-of-age story has heft—and much relevance. Strong medicine for readers interested in how society accepts or rejects those who are different. An excellent choice for mature audiences.
—School Library Journal

There are layers of deep meaning in this taut novel that feel like it came directly from the headlines with all the frenzy of social media. The well-drawn characters and believable dialogue are sure to inspire critical thinking and impassioned debate, for students will see themselves clearly in both the character of Eran and the maelstrom of current events that will be all too relevant to them.
—School Library Connection

Provocative.
—Kirkus Reviews
Candlewick, 9780763697501, 352pp.
Publication Date: October 15, 2019
About the Author
Rafi Mittlefehldt is a writer who has worked as a newspaper reporter, freelance theater critic, and children's author. His debut novel was It Looks Like This. Rafi Mittlefehldt lives with his husband in New York City.
1. Describe Eema's personality and the relationship between Eran and Eema early in the book. How does their relationship change over the course of the novel? Explain why Eema didn't tell Eran about his father and their past. Why do people believe that Eema must have known what Dani was planning?
2. After Eema takes him from the demonstration, Eran describes his feelings, including "Anger, of course, always anger" (page 47). Discuss the role of anger in his life and his relationship with his mother. Why does he believe anger can be useful, "that it gets stuff done" (page 283)?
3. Eema tells Eran that his father often quoted from the Talmud, referring to a passage that says "if someone has power to prevent injustice but does not, then he is responsible for this injustice" (page 154). Do you agree with that idea?
4. The topic of Eran's anger and how it relates to his father's anger comes up when he, Jade, and Declan are in the concrete pipe. Discuss Jade's observation that anger can be a virtue and her two questions: "Isn't that what makes us, anyway? What we decide, rather than what we're born into?" (page 284). Relate her comment to the book's title and to her own circumstances. Why will Jade "think about this moment years later"?
5. What is the effect of having some chapters focus on Jade? What aspects of her story parallel Eran's? What aspects contrast with his? Why are the chapters about Jade written in third person and those about Eran in first person?
6. What role has the synagogue played in Eran's and Eema's lives? Discuss some of the reactions at the synagogue when Eran and Eema go there in chapter twelve. Why does Zack say, "Jews don't get to speak without thinking, Eran" (page 219)? Describe the attack on the synagogue and the responses of various people, including Eran, his mother, and his friends.
7. What are some of the ways that journalists are portrayed in this novel? Why does Benson Domani write the story connecting Eema, Eran, and Dani? How does he justify writing it? Why does Eran's mother think they shouldn't speak with reporters? What are the consequences when Eran does speak with them? Discuss the scene at the gas station and the role of the reporters there.
or
Not Currently Available for Direct Purchase