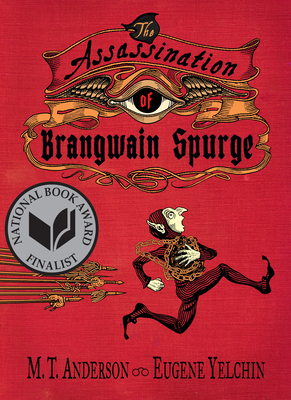 The Assassination of Brangwain Spurge
Hardcover

* Individual store prices may vary.
Other Editions of This Title:
Digital Audiobook (11/5/2018)
Paperback (4/14/2020)
Compact Disc (11/6/2018)
MP3 CD (11/6/2018)
Description
Subverting convention, award-winning creators M. T. Anderson and Eugene Yelchin pair up for an anarchic, outlandish, and deeply political saga of warring elf and goblin kingdoms.

Uptight elfin historian Brangwain Spurge is on a mission: survive being catapulted across the mountains into goblin territory, deliver a priceless peace offering to their mysterious dark lord, and spy on the goblin kingdom — from which no elf has returned alive in more than a hundred years. Brangwain's host, the goblin archivist Werfel, is delighted to show Brangwain around. They should be the best of friends, but a series of extraordinary double crosses, blunders, and cultural misunderstandings throws these two bumbling scholars into the middle of an international crisis that may spell death for them — and war for their nations. Witty mixed media illustrations show Brangwain's furtive missives back to the elf kingdom, while Werfel's determinedly unbiased narrative tells an entirely different story. A hilarious and biting social commentary that could only come from the likes of National Book Award winner M. T. Anderson and Newbery Honoree Eugene Yelchin, this tale is rife with thrilling action and visual humor . . . and a comic disparity that suggests the ultimate victor in a war is perhaps not who won the battles, but who gets to write the history.
Praise For The Assassination of Brangwain Spurge…
The book, which is on this year's National Book Award long list, is at times both moving and hilarious. Spurge is not just an unlikely hero — it's hard to know if he's a hero at all. But that only makes the finale of this political satire all the more surprising.
—The New York Times Book Review

Anderson's latest foray into middle-grade fantasy is executed with the all smarts and finesse his fans have come to expect. Joining him on this storytelling adventure is Yelchin...Yelchin's black pen-and-ink illustrations, in Medieval style, capture the humor and fantastical details of the text, as well as Brangwain's changing view of goblins. Biting and hysterical, Brangwain and Werfel's adventure is one for the history books.
—Booklist (starred review)

Together, Anderson and Yelchin craft something that feels impossible, a successfully unorthodox epistolary, pictorial, and prose narrative that interrogates the cultural ramifications of unchallenged viewpoints and the government violence they abet even as it recounts the comedic blunderings of a spy mission gone wrong. Monty Python teams up with Maxwell Smart for a wrestling match with Tolkien—splendid.
—Kirkus Reviews (starred review)

With the look and feel of medieval lithographs, they include touches of humor, whimsy, irony, and menace; as such, they are well suited to both the acerbic wit and the affecting tenderness of Anderson's prose. The result is a fantasy that couldn't feel more real, obliquely referencing a political climate marked by a lack of civility, underhanded diplomacy, fake news, widespread bigotry and prejudice, and the dehumanization of marginalized people.
—The Horn Book (starred review)

Told in narrative and illustrated pages—Werfel's experiences and Spurge's visual dispatches back home—the story by Anderson (Feed) and Yelchin (Arcady's Goal) blends the absurd and the timely to explore commonality, long-standing conflict, and who gets to write a world's history.
—Publishers Weekly (starred review)

Sophisticated, witty and sharply political, the book tells of the elf Brangwain Spurge and the goblin Werfel, two scholars from feuding kingdoms who are swept into a maelstrom of espionage, deceit and prejudice.
—The Wall Street Journal

The satirical tone is reminiscent of Lemony Snicket's "A Series of Unfortunate Events," while the format is similar in concept to Brian Selznick's work; Yelchin's black-and-white ink drawings reveal the viewpoint of the visiting Elfin historian, contrasted with the text descriptions from Werfel's viewpoint. A relevant...message on the importance of perspective and finding common ground. A good choice for most middle grade shelves.
—School Library Journal

This comic spy story addresses prejudice and cultural misunderstandings in a unique way, and could complement both historical and political discussions in the classroom.
—School Library Connection

A brilliant, satirical take on cultural chauvinism, objectivity and war and peace, The Assassination of Brangwain Spurge is witty, wise and wondrously unique.
—BookPage

[A] smart and smarting history with its consequential warning: Truthfully recall the past to change the future.
—San Francisco Chronicle

This beautifully crafted, thrilling fantasy entertains even as it offers a powerful lesson about national narratives, the power of myth and the difficulty of acknowledging "the other." A perfect novel for our times.
—Buffalo News

All I can say is that it's a book for our time. An unreliable visual narrator. A Cold War, Middle Earth, buddy comedy. Art that looks like the lovechild of Hieronymus Bosch and Terry Gilliam. You know. One of those.
—A Fuse #8 Production (blog)

For me, however, the cream of this middle school crop is The Assassination of Brangwain Spurge by M.T. Anderson, illustrated by Eugene Yelchin. This masterly political satire in the form of a fantasy novel feels more relevant to our current political strife, two years into the Trump administration, than any book published this year.
—School Library Journal (blog)

This hilarious political satire details a thousand years of animosity between the elves and the goblins.
—People Magazine

Hidden among Yelchin's ornate illustrations, Clivers' posturing, Spurge's sneaking and Werfel's confusion is a surprisingly humorous tale of misunderstanding, betrayal, miscalculation—and the power of preconceived notions. As both nations hurtle toward a new chapter in diplomacy, Yelchin and Anderson offer a sly commentary on who really gets the last word in history.
—Virginian-Pilot

If Hieronymus Bosch and Terry Gilliam had a love child, it couldn't be more twisted and brilliant than the silent visual sequences you'll find on these pages.
—NPR Books

Snarky, clever, and brilliantly executed, this is my number-one favorite book of the year.
—The Booklist Reader

"Anderson and Yelchin's fable of goblins, elves, and the cultural brouhahas that put their respective nations on a war footing is accessible, darkly comic, and rewarding."
—Gregory Maguire, author of Wicked

"What a fun wild crazy smart gorgeous book! And oh! that art — insanely beautiful."
—Jon Scieszka, first U.S. National Ambassador for Young People's Literature
Candlewick, 9780763698225, 544pp.
Publication Date: September 25, 2018
About the Author
M. T. Anderson is the author of Feed, winner of the Los Angeles Times Book Prize; the National Book Award–winning The Astonishing Life of Octavian Nothing, Traitor to the Nation, Volume I: The Pox Party and its sequel, The Kingdom on the Waves, both New York Times bestsellers and Michael L. Printz Honor Books; Symphony for the City of the Dead: Dmitri Shostakovich and the Siege of Leningrad; Landscape with Invisible Hand; and many other books for children and young adults. He lives near Boston, Massachusetts.

Eugene Yelchin is a Russian-American author and illustrator of many books for children, including Breaking Stalin's Nose, a Newbery Honor book; The Haunting of Falcon House, a Golden Kite Award winner; and The Rooster Prince of Breslov, a National Jewish Book Award winner. He has also received the SCBWI Tomie dePaola Award for illustration. He lives in Topanga, California.
Book Videos
1. There are many ways to tell a story, as The Assassination of Brangwain Spurge makes clear. Who are the narrators of this novel? What does each contribute to the story? Which narrator do you find to be the most trustworthy? Why?
2. Take a closer look at Spurge's transmissions back to Elfland. According to Clivers, they depict "whatever he pictures in his mind," his impression of things as opposed to reality (page 160). If Spurge were using a camera, how would his transmissions be different? Would they be more honest? Why?
3. For the goblins, "hospitality was holy" (page 29). What risks does Werfel take to be a good host to Spurge? Why does Spurge mistreat his host? When does he stop acting like a bad guest and start behaving like a good friend? How does that transformation save his life, and Werfel's, too?
4. Books that depict warfare, treachery, and personal humiliation tend not to be very funny, but this one is often hilarious. What is your favorite piece of comic dialogue? What is your favorite comic scene? Why?
5. "Werfel thought of the old saying: Elf and goblin, we all have pointy ears. So true" (page 81). Beyond their ears, what other characteristics do elves and goblins share? What qualities set them apart?
6. Despite mounting evidence of the rot in his homeland, Spurge is blind to Elfland's problems through most of this novel. Yet Werfel clearly sees the corruption in the goblin kingdom. Why is one scholar more open to disturbing truths about his country than the other?
7. Military strength is highly prized in most nations, but what about intellectual strength? How do ideas and values contribute to a country's security? How do Werfel and Spurge prove the potency of brain power?
8. Perhaps you've heard the assertion "History is written by the victors" in a classroom or on television. What do you think it really means? Does it apply to this novel? Why?