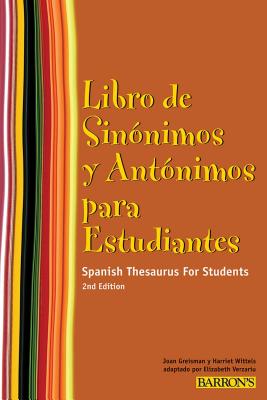 Libro de Sinonimos y Antonimos Para Estudiantes (Paperback)
Spanish Thesaurus for Students (Spanish Edition) (Barron's Foreign Language Guides)
Barrons Educational Series, 9780764143212, 304pp.
Publication Date: April 1, 2010
* Individual store prices may vary.
Description
Middle school and high school students studying Spanish as a second language, as well as students whose first language is Spanish will find a wealth of words and their synonyms to enrich their Spanish vocabulary in this revised, updated, and enlarged edition. More than 6,000 words are presented alphabetically, each followed by a list of synonyms. Many of the entry words also offer their antonym or opposite meaning. Written assignments in Spanish--including full-length essays--will become easier to write and will earn higher grades when students rely on this clear and simple thesaurus as their reference aid.