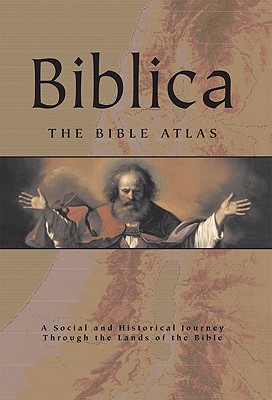 Biblica: The Bible Atlas: A Social and Historical Journey Through the Lands of the Bible (Hardcover)
The Bible Atlas: A Social and Historical Journey Through the Lands of the Bible
Barron's Educational Series, 9780764160851, 578pp.
Publication Date: October 1, 2007
* Individual store prices may vary.
or
Not Currently Available for Direct Purchase
Description
Heralded as the most authoritative and up-to-date atlas of the Bible now available, " Biblica: The Bible Atlas " with an enclosed CD-ROM goes beyond the more traditional books of its kind. It places the biblical narrative and its peoples in their historical, cultural, social, and geographic contexts, and it makes clear the complex history and cultures of the Bible lands as they relate to the regionA's modern social and political landscape. But perhaps most important of all, " Biblica: The Bible Atlas " incorporates the most recent archaeological findings and research, combining scholarly data with engaging discussion of the BibleA's immortal stories. In summary, this unusual volume offers readers fresher insights and a deeper appreciation of the biblical narrative than any other reference source of its kind. " Biblica: The Bible Atlas " is also a visually stunning guide to the Bible and biblical lands, featuring more than 650 full-color paintings, drawings, etchings, and photographs plus 125 full-color maps of the region. Following the extensive and beautifully illustrated main text are 14 pages of biblical reference tables, an extensive bibliography, a glossary of biblical terms, a large selection of biblical quotations from the Old and New Testaments, a gazetteer of biblical place names, and an extensive index. Here is a beautiful and informative book that will make a treasured addition to the family bookshelf. It will also be a much-sought-after volume in reference libraries everywhere.
(sidebar copy)
Biblica: The Bible Atlas Brings to life the dramatic stories, charismatic people, and fascinating locales of the Bible Arranged in eight parts: geography and history of the Bible lands; Genesis and the Patriarchal period; the Judges; the Kings, the Prophets and the Righteous; the conquest of the kingdoms; the life of Jesus of Nazareth; and the spreading of the Word Includes information on topography, geology, climate, vegetation, and key physical features of the region 125 original maps show prominent locations, journeys, battles, political boundaries, and more Incorporates the latest archaeological findings and theological research.
The enclosed CD-ROM presents interactive maps that point out biblical place names and important archaeological sites. This software accessory also defines biblical names and Bible-related terms, and serves readers as a helpful complement to a truly unusual book.
Advertisement