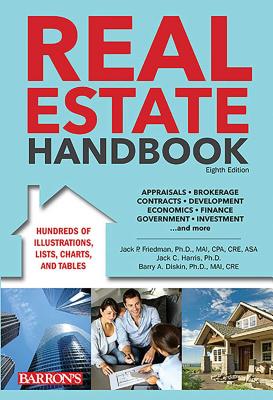 Real Estate Handbook
Hardcover

* Individual store prices may vary.
Description
This comprehensive reference book has been updated to reflect the country's gradually recovering real estate market. It covers virtually every aspect of buying and selling, understanding mortgages, analyzing real estate investment opportunities, getting and understanding appraisal reports, and more. The book's most important features include
An up-to-date summary of federal real estate legislation and regulations
An overview and general description of careers in real estate
A 400-plus-page real estate glossary with A-to-Z short-entry definitions of real estate terms, financing terms, house styles and parts, and real estate organizations
An extensive set of tables that show monthly mortgage payment figures calculated across a wide range of annual interest rates
Facsimile real estate forms and worksheets to familiarize potential buyers with the paperwork involved in getting a mortgage and purchasing real estate
Here in one volume is a compendium of facts, figures, and general information that covers virtually every aspect of today's real estate industry. Features hundreds of charts, tables, and line illustrations.
Barrons Educational Series, 9780764165610, 816pp.
Publication Date: September 1, 2013
About the Author
Jack P. Friedman earned a BBA degree in Finance from Wake Forest University in Winston-Salem N.C., an MBA in Accounting from Pace University in New York, and a PhD in Business Administration with a major in Real Estate from Georgia State University in Atlanta Georgia.

Friedman is a State Certified General Appraiser with licenses in Illinois, Texas, Florida, Georgia and Kentucky. He holds the MAI, SRA and SREA designations from the Appraisal Institute; and the ASA designation from the American Society of Appraisers. He is a Counselor of Real Estate (CRE) awarded by the American Society of Real Estate Counselors, and a stockholder of the Real Estate Consulting Group of America. He is a Weimer Fellow in the Homer Hoyt Institute. Friedman has been licensed as a real estate broker in Texas for 40 years.

Friedman is a Certified Public Accountant (CPA) originally earned in New York in 1969, licensed in Texas since 1976. He holds additional credentials awarded by the American Institute of CPAs including: Certified in Financial Forensics (CFF), Accredited in Business Valuation (ABV), Certified Global Management Accountant (CGMA).