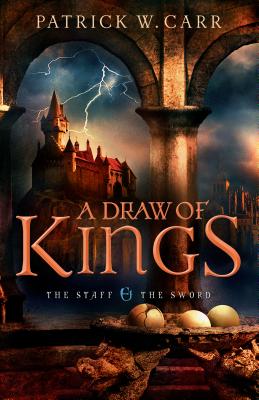 A Draw of Kings (Staff and the Sword)
Paperback

* Individual store prices may vary.
Description
Dark Forces Have Gathered and the Final Battle for Illustra Has Begun

Their journey to Merakh should have made Errol and his companions heroes of the realm. Instead, they've been branded enemies of the kingdom.

In the wake of the king's death, Duke Weir is ruling the country--and he intends to marry Adora to bring an heir from the royal line. With Errol and the others imprisoned and the identity of the rightful heir to the throne still hidden in secrecy, Illustra is on the verge of civil war--and threatened by hostile forces gathering on every side.

A dangerous mission to free Errol is attempted, but the dangers facing the kingdom mount with every passing moment. The barrier has fallen, ferrals are swarming toward the land, and their enemies draw ever closer. Will the discovery of the true heir turn back the tide of Illustra's destruction?

Praise for The Staff and the Sword series

"This fast-paced fantasy debut set in a medieval world is a winner. Both main and secondary characters are fully drawn and endearing...Fans of epic Christian fantasies will enjoy discovering a new voice."
Library Journal (starred review) on A Cast of Stones

"The adrenaline level remains high..."
Publishers Weekly on The Hero's Lot

"The Hero's Lot is a spellbinding, edge-of-your-seat thrill ride that will leave you breathless and reeling from the truly masterful and immensely pleasurable writing of Patrick W. Carr."
Radiant Lit.
Bethany House Publishers, 9780764210457, 462pp.
Publication Date: February 18, 2014
About the Author
Patrick W. Carr is the author of the acclaimed fantasy A Cast of Stones and The Hero's Lot. He teaches high school and makes his home in Nashville, Tennessee, with his incredible wife, Mary, and their four sons, Patrick, Connor, Daniel, and Ethan. Learn more at www.patrickwcarr.com.