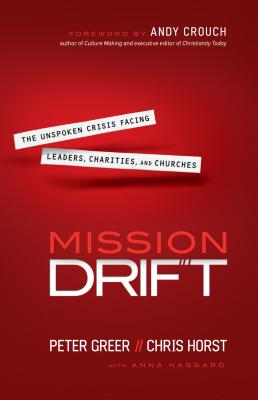 Mission Drift (Hardcover)
The Unspoken Crisis Facing Leaders, Charities, and Churches
Bethany House Publishers, 9780764211010, 219pp.
Publication Date: February 18, 2014
Other Editions of This Title:
Paperback (2/17/2015)
Compact Disc (9/15/2014)
* Individual store prices may vary.
Description
Is your organization in danger of Mission Drift?
Without careful attention, faith-based organizations drift from their founding mission.
It's that simple. It will happen.
Slowly, silently, and with little fanfare, organizations routinely drift from their purpose, and many never return to their original intent. Harvard and the YMCA are among those that no longer embrace the Christian principles on which they were founded. But they didn't drift off course overnight. Drift often happens in small and subtle ways. Left unchecked, it eventually becomes significant.
Yet Mission Drift is not inevitable. Organizations such as Compassion International and InterVarsity have exhibited intentional, long-term commitment to Christ.
Why do so many organizations--including churches--wander from their mission, while others remain Mission True? Can drift be prevented? In "Mission Drift," HOPE International executives Peter Greer and Chris Horst tackle these questions. They show how to determine whether your organization is in danger of drift, and they share the results of their research into Mission True and Mission Untrue organizations. Even if your organization is Mission True now, it's wise to look for ways to inoculate yourself against drift. You'll discover what you can do to prevent drift or get back on track and how to protect what matters most.
About the Author
Peter Greer is president and CEO of HOPE International, a global nonprofit focused on addressing both physical and spiritual poverty through microfinance. He has a master's degree in public policy from Harvard's Kennedy School. Peter coauthored "The Poor Will Be Glad "and "The Spiritual Danger of Doing Good, " speaks at conferences, including Catalyst and Passion, and has been featured by media outlets such as CNN, "Christianity Today," and "World." Peter lives in Lancaster, Pennsylvania, with his wife, Laurel, and three children. Learn more at www.peterkgreer.com.

Chris Horst is the director of development at HOPE International, where he works and writes at the intersection of entrepreneurship, work, and the Gospel. Chris has been published regularly in Christianity Today and has a forthcoming book on entrepreneurship and human flourishing. He serves on the boards of the Denver Institute for Faith & Work and the Colorado Microfinance Alliance. Chris graduated from Taylor University with a business degree and has his MBA from Bakke Graduate University. He lives in Denver, Colorado, with his wife, Alli, and son, Desmond. Chris blogs at www.smorgasblurb.com.

Anna Haggard is the executive writing assistant at HOPE International, where she collaborates with the president and CEO and the marketing department to share HOPE's message through print and social media and coauthored "The Spiritual Danger of Doing Good." Anna is a graduate of Asbury University and lives in Lancaster, Pennsylvania.
or
Not Currently Available for Direct Purchase