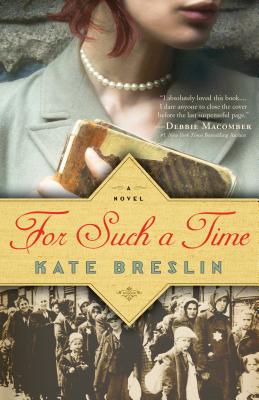 For Such a Time
Paperback

* Individual store prices may vary.
Other Editions of This Title:
Digital Audiobook (9/28/2015)
MP3 CD (9/29/2015)
Compact Disc (9/29/2015)
Description
Powerful Retelling of the Story of Esther

In 1944, blond and blue-eyed Hadassah Benjamin feels abandoned by God when she is saved from a firing squad only to be handed over to a new enemy. Pressed into service by SS-Kommandant Colonel Aric von Schmidt at the transit camp of Theresienstadt in Czechoslovakia, she is able to hide behind the false identity of Stella Muller. However, in order to survive and maintain her cover as Aric's secretary, she is forced to stand by as her own people are sent to Auschwitz.

Suspecting her employer is a man of hidden depths and sympathies, Stella cautiously appeals to him on behalf of those in the camp. Aric's compassion gives her hope, and she finds herself battling a growing attraction for this man she knows she should despise as an enemy.

Stella pours herself into her efforts to keep even some of the camp's prisoners safe, but she risks the revelation of her true identity with every attempt. When her bravery brings her to the point of the ultimate sacrifice, she has only her faith to lean upon. Perhaps God has placed her there for such a time as this, but how can she save her people when she is unable to save herself?

"I absolutely loved this book. For Such a Time kept me up at night, flipping the pages and holding my breath wanting to know what would happen next. Based on the Biblical book of Esther, the story takes the reader to a concentration camp inside World War II Czechoslovakia, where a young Jewish woman has captured the attention of the Kommandant and has the opportunity to save her people, much as Esther did in the Biblical account. The story is gripping, compelling, and I dare anyone to close the cover before the last suspenseful page."--#1 New York Times Bestselling Author, Debbie Macomber

"When I finished Kate Breslin's novel for the first time, I had an urge to flip back to page one and start reading all over again. It's that good. For Such a Time is an intimate portrait painted on a grand scale, bringing to life the drama and pain of suffering with the triumph and joy of freedom. This book deserves a wide audience, and newcomer Breslin has a bright future."--#1 New York Times bestselling author, Susan Wiggs

"An engrossing and inspiring story from a talented new writer."--Bestselling Author, Sheila Roberts.
Bethany House Publishers, 9780764211607, 430pp.
Publication Date: April 1, 2014
About the Author
A Florida girl who migrated to the Pacific Northwest, Kate Breslin was a bookseller for many years. Author of several travel articles, award-winning poet, and RWA Golden Heart finalist, Kate now writes inspiring stories about the healing power of God's love. For Such a Time is her first book. She lives with her husband and cat in Seattle, WA. Learn more at www. katebreslin.com.