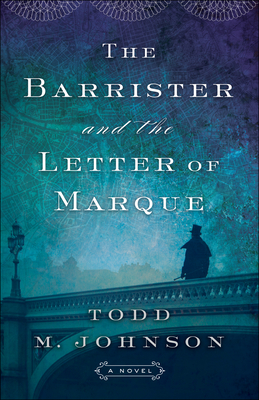 The Barrister and the Letter of Marque
Paperback

* Individual store prices may vary.
Other Editions of This Title:
Digital Audiobook (8/2/2021)
Hardcover (8/3/2021)
Description
Winner of 2022 Daphne du Maurier Award in Overall Published Division and Mainstream Suspense/Mystery

As a barrister in 1818 London, William Snopes has witnessed firsthand the danger of only the wealthy having their voices heard, and he's a strong advocate who defends the poorer classes against the powerful. That changes the day a struggling heiress, Lady Madeleine Jameson, arrives at his door.

In a last-ditch effort to save her faltering estate, Lady Jameson invested in a merchant brig, the Padget. The ship was granted a rare privilege by the king's regent: a Letter of Marque authorizing the captain to seize the cargo of French traders operating illegally in the Indian Sea. Yet when the Padget returns to London, her crew is met by soldiers ready to take possession of their goods and arrest the captain for piracy. And the Letter--the sole proof his actions were legal--has mysteriously vanished.

Moved by the lady's distress, intrigued by the Letter, and goaded by an opposing solicitor, Snopes takes the case. But as he delves deeper into the mystery, he learns that the forces arrayed against Lady Jameson, and now himself, are even more perilous than he'd imagined.

"The Barrister and the Letter of Marque combines the intrigue of John Grisham, the vibrant world of Charles Dickens, and a mystery worthy of Sir Arthur Conan Doyle. . . . This richly historical and lively paced story has all the makings of a modern classic."--JOCELYN GREEN, Christy Award-winning author of Shadows of the White City

"At once atmospheric and gripping, Johnson's latest is a luminous and refreshing new offering in inspirational historical fiction."--RACHEL MCMILLAN, author of The London Restoration and The Mozart Code

"A fascinating glimpse into a Regency London readers seldom see."--ROSEANNA M. WHITE, bestselling author of Edwardian fiction.
Bethany House Publishers, 9780764212369, 416pp.
Publication Date: August 3, 2021
About the Author
Todd M. Johnson has practiced as an attorney for over 30 years, specializing as a trial lawyer. A graduate of Princeton University and the University of Minnesota Law School, he has also taught for two years as an adjunct professor of international law and served as a U.S. diplomat in Hong Kong. He is the author of The Deposit Slip and lives outside Minneapolis, Minnesota, with his wife and daughter. He can be found online at www.authortoddmjohnson.com.