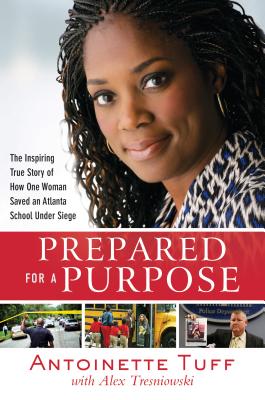 Prepared for a Purpose: The Inspiring True Story of How One Woman Saved an Atlanta School Under Siege (Hardcover)
The Inspiring True Story of How One Woman Saved an Atlanta School Under Siege
Bethany House Publishers, 9780764212635, 232pp.
Publication Date: January 21, 2014
* Individual store prices may vary.
or
Not Currently Available for Direct Purchase
Description
True Story of Courage and Compassion in a School Under Siege
As 870 children waited in fear, their elementary school rushed into lockdown mode. As the nation faced yet another Sandy Hook story of tragedy, one woman rewrote the ending.
Yet the story doesn't start with those first steps Michael Hill took into that Atlanta elementary school. It starts with Antoinette Tuff, a woman who faced her own pain, hurt, and rejection, yet held onto grace, faith, and hope. A hope that anchored her in the most high stakes of moments, a grace that allowed her to empathize with a hurting young man, and a faith that gave her the courage to love him back from the brink.
This is more than just the amazing account of tragedy averted. It's the evidence of what we can do when we allow ourselves to be used by God. And it's a story of how God uses "all "of our life experiences--the good and the bad--to prepare us for our own moment of divine purpose.
About the Author
Antoinette Tuff is a true picture of grace, courage, leadership, and heroism at its best. But before she made headlines and talked a school shooter back from the brink, she was a woman who faced--and overcame--her own pain and hurt. Publicly recognized by President Obama for her courageous act that saved a school from tragedy, she's also been nominated for the prestigious Carnegie Medal for civilian heroism. Today Antoinette speaks around the world, spreading hope and sharing her inspiring message of how our lives prepare us for our own moments of purpose. She has two children. Learn more at www.antoinettetuff.com.
Coverage from NPR
Advertisement