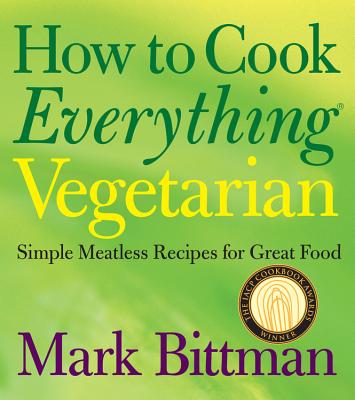 How to Cook Everything Vegetarian
Simple Meatless Recipes for Great Food
Hardcover

* Individual store prices may vary.
Description
The ultimate one-stop vegetarian cookbook-from the author of the classic How to Cook Everything
Hailed as "a more hip Joy of Cooking" by the Washington Post, Mark Bittman's award-winning book How to Cook Everything has become the bible for a new generation of home cooks, and the series has more than 1 million copies in print. Now, with How to Cook Everything: Vegetarian, Bittman has written the definitive guide to meatless meals-a book that will appeal to everyone who wants to cook simple but delicious meatless dishes, from health-conscious omnivores to passionate vegetarians.
How to Cook Everything: Vegetarian includes more than 2,000 recipes and variations-far more than any other vegetarian cookbook. As always, Bittman's recipes are refreshingly straightforward, resolutely unfussy, and unfailingly delicious-producing dishes that home cooks can prepare with ease and serve with confidence. The book covers the whole spectrum of meatless cooking-including salads, soups, eggs and dairy, vegetables and fruit, pasta, grains, legumes, tofu and other meat substitutes, breads, condiments, desserts, and beverages. Special icons identify recipes that can be made in 30 minutes or less and in advance, as well as those that are vegan. Illustrated throughout with handsome line illustrations and brimming with Bittman's lucid, opinionated advice on everything from selecting vegetables to preparing pad Thai, How to Cook Everything: Vegetarian truly makes meatless cooking more accessible than ever.
Praise for How to Cook Everything Vegetarian
"Mark Bittman's category lock on definitive, massive food tomes continues with this well-thought-out ode to the garden and beyond. Combining deep research, tasty information, and delicious easy-to-cook recipes is Mark's forte and everything I want to cook is in here, from chickpea fries to cheese soufflés."
—Mario Batali, chef, author, and entrepreneur
"How do you make an avid meat eater (like me) fall in love with vegetarian cooking? Make Mark Bittman's How to Cook Everything Vegetarian part of your culinary library."
—Bobby Flay, chef/owner of Mesa Grill and Bar Americain and author of the Mesa Grill Cookbook
"Recipes that taste this good aren't supposed to be so healthy. Mark Bittman makes being a vegetarian fun."
—Dr. Mehmet Oz, Professor of Surgery, New York-Presbyterian/Columbia Medical Center and coauthor of You: The Owner's Manual
Praise For How to Cook Everything Vegetarian: Simple Meatless Recipes for Great Food…
"Today a good general vegetarian cookbook ought to be de rigueur in any kitchen.... Mr. Bittman works hard to concentrate on accessible, nonesoteric cooking while introducing a big though nonprogrammatic range of international possibilities". (
Online New York Times Book Review
, December 12, 2007)
Marking how mainstream vegetarian cooking has become, the next must-have for the vegetarian cook's shelf comes from New York Times "Minimalist" chef Bittman, an avowed meat eater. And that ensures one of this massive compendium's many attractions: a wealth of recipes that don't scream "vegetarian" and plentiful guidelines to make cooking vegetarian as intuitive as cooking with meat. Like his now classic How to Cook Everything, this book opens with terrifically useful, straightforward discussions of essential ingredients, appliances and techniques, which Bittman builds on throughout in to-the-point sidebars and illustrated boxes. The recipes flow thick and fast in his theme-and-variations style: Green Tea with Udon Noodles is followed by concise instructions for making it 17 different ways, while Coconut Rice gets five additional takes and Kidney Beans with Apples and Sherry four; other lists (six Great Spreads for Bruschetta or Crostini, 10 Garnishes for Pozole with Mole) abound and inspire. New vegetarians and vegetarians cooking for omnivores will appreciate Bittman's avoidance of faux meat products in favor of flavorful high-protein dishes like Braised Tofu in Caramel Sauce and Bechamel Burgers with Nuts. Even owners of the original book will find much new to savor while benefiting from Bittman's remarkable ability to teach foundational skills and encourage innovation with them, which will help even longtime vegetarians freshen their repertory. (Oct.)(Publishers Weekly, June 18, 2007)
Houghton Mifflin Harcourt, 9780764524837, 1008pp.
Publication Date: September 28, 2007
About the Author
MARK BITTMAN is the author of more than 20 books, including the best-selling, award-winning How to Cook Everything series, several of which are also successful apps. As a beloved New York Times columnist and writer, he produced The Minimalist column, hundreds of food and travel stories and videos, and was the country's leading weekly Opinion writer on food. He now devotes his time to cookbooks, teaching, and developing strategies to guarantee that food is fair, affordable, nutritious, green, and delicious. He can be found at markbittman.com, @bittman on Twitter, and @markbittman on Instagram.
or
Not Currently Available for Direct Purchase