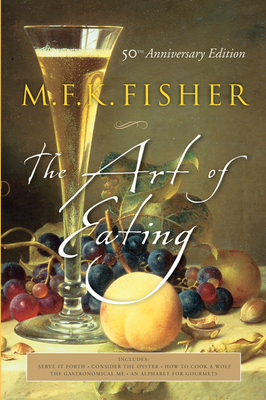 The Art Of Eating
50th Anniversary Edition
Paperback

* Individual store prices may vary.
Description
RUTH REICHL
"Mary Frances [Fisher] has the extraordinary ability to make the ordinary seem rich and wonderful. Her dignity comes from her absolute insistence on appreciating life as it comes to her."
JULIA CHILD
"How wonderful to have here in my hands the essence of M.F.K. Fisher, whose wit and fulsome opinions on food and those who produce it, comment upon it, and consume it are as apt today as they were several decades ago, when she composed them. Why did she choose food and hunger she was asked, and she replied, 'When I write about hunger, I am really writing about love and the hunger for it, and warmth, and the love of it . . . and then the warmth and richness and fine reality of hunger satisfied.' This is the stuff we need to hear, and to hear again and again."
ALCIE WATERS
"This comprehensive volume should be required reading for every cook. It defines in a sensual and beautiful way the vital relationship between food and culture."
Praise For The Art Of Eating: 50th Anniversary Edition…
This 50th anniversary paperback reprint contains what Julia Child referred to as "the essence of M.F.K. Fisher." Fisher (1908-1992) was one of this country's earliest food writers; her eloquent yet unostentatious prose has charmed generations. The 784-page collection brings together five works originally published under separate titles: "Serve it Forth," "Consider the Oyster," "How to Cook a Wolf," "The Gastronomical Me" and "An Alphabet for Gourmets." There are also recipes scattered throughout. (Washington Post, April 28, 2004) —
Harvest, 9780764542619, 784pp.
Publication Date: March 5, 2004
About the Author
Culinary historian, cookbook author, and biographer Joan Reardon is the author of M.F.K. Fisher, Julia Child, and Alice Waters: Celebrating the Pleasures of the Table, M.F.K. Fisher Among the Pots and Pans, Poet of the Appetites: The Lives and Loves of M.F.K. Fisher, and Oysters: a Culinary Celebration. Reardon, who has a PhD in English literature, won an IACP Award for culinary writing, publishes and edits a quarterly newsletter for Les Dames d'Escoffier Chicago, and serves on the advisory board of Gastronomica magazine.