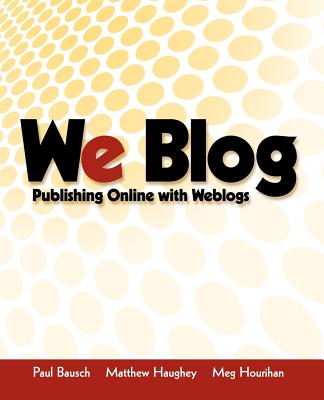 We Blog (Paperback)
Publishing Online with Weblogs
John Wiley & Sons, 9780764549625, 336pp.
Publication Date: August 16, 2002
* Individual store prices may vary.
Description
Your Complete Guide to Creating and Maintaining Weblogs
Weblogs offer an exciting new way to voice your opinions, share ideas with others, and help your business grow. Written by a team of weblog pioneers-the people who helped create Blogger and the MetaFilter community blog-this book shows you how to build, evolve and automate weblogs for personal and business use.
We Blog begins with a complete overview of blog history, the different kinds of weblogs that exist today, and more. It further explains how to create, expand, and promote your own blog, from getting the most out of a variety of blogging tools and services to building a blog for business and expanding your audience through syndication.
Packed with insider advice, practical exercises, and illuminating interviews, We Blog is your indispensable guide to the world of weblogs.
Build Your Own Blog Today and Get Connected
* Create your first blog in just a few minutes
* Find out about team blogs and business blogs
* Learn how to use six popular blogging tools
* Make blogging even easier with an automated weblog system
* Add a comment system to connect with your audience
* Build your audience by promoting or syndicating your blog.
About the Author
Paul Bausch is the co-creator of Blogger, the popular weblog software. A veteran Web developer, Paul is skilled in a variety of programming languages and is the creator of several useful blogging tools. Matthew Haughey started the community weblog MetaFilter.com, which now has over 13,000 members, and helped develop the Blogger.com site and service. Meg Hourihan is the cofounder of Pyra, the company behind Blogger. A frequent speaker on the subject of weblogs, she runs her own award-winning blog (megnut.com) and was profiled by the New Yorker in an article on weblogs.