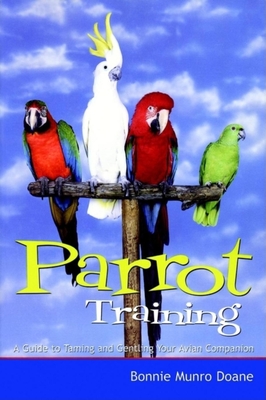 Parrot Training (Paperback)
A Guide to Taming and Gentling Your Avian Companion
Howell (TP), 9780764563270, 224pp.
Publication Date: March 1, 2001
* Individual store prices may vary.
Description
In paperback at last -- the definitive guide to parrot training.
Originally published as The Pleasure of Their Company: An Owner's Guide to Parrot Training, this amply illustrated book is just what parrot owners need to bring up happy, well-behaved pets. You get:
Hands-on advice from one of the nation's foremost parrot authorities
A thorough explanation of ""normal"" parrot behavior and the benefits of training
Coverage of everything from gentling fledglings and basic obedience to potty training, speech, and tricks""
About the Author
BONNIE MUNRO DOANE, RN, BSN, MSN, has worked with parrots for nearly twenty years. As both pet owner and breeder, she has wide experience in the areas of parrot behavior and behavioral problems, parrot husbandry, nutrition, breeding and rearing of many species of parrot chicks. Ms. Doane has been a member of the Association of Avian Veterinarians since 1987.