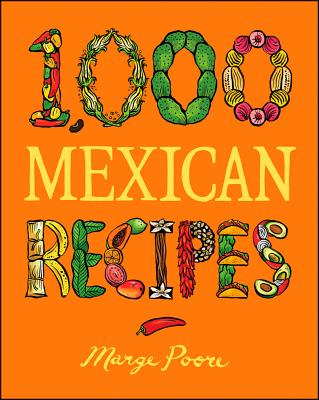 1,000 Mexican Recipes (1,000 Recipes) (Hardcover)
Houghton Mifflin Harcourt, 9780764564871, 656pp.
Publication Date: September 15, 2001
* Individual store prices may vary.
Description
A comprehensive guide to accessible Mexican home cooking
Offering 1,000 recipes for traditional fare from all the regions of Mexico, as well as dishes inspired by the nueva cocina of today's top Mexican chefs, this cookbook covers what home cooks need and want to know about Mexican cooking. Throughout, the author shares the cultural and culinary heritage of the people and food of Mexico from her perspective as a traveler and impassioned enthusiast of the country.
Home cooks will delight in the mouthwatering recipes such as Corn with Chipotle Butter, Chicken Quesadillas, Pork Chops with Poblano Chile Sauce, and Mexican Coffee Flan. There are two dozen kinds of salsa and more than 45 delicious chicken dishes, plus much more—enough exciting choices to fill weeknight dinner and special occasion menus for years!
About the Author
Marge Poore has taught Mexican cooking for two decades and has led culinary tours to Mexico for 30 years. She is the author of five cookbooks, including 365 Mexican Recipes, The Best Stove-Top Grill Pan Cookbook Ever, and The Complete Chicken Breast Cookbook. She lives in Novato, California.