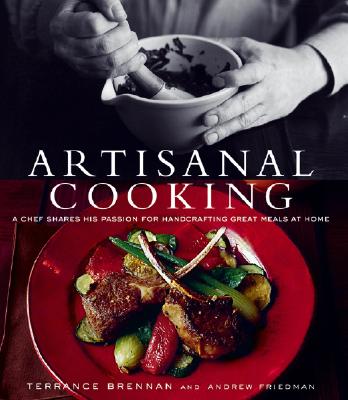 Artisanal Cooking: A Chef Shares His Passion for Handcrafting Great Meals at Home (Hardcover)
A Chef Shares His Passion for Handcrafting Great Meals at Home
Wiley, 9780764568220, 336pp.
Publication Date: September 1, 2005
* Individual store prices may vary.
or
Not Currently Available for Direct Purchase
Description
Terrance Brennan's passion for simple yet flavorful cuisine has fueled the success of his two acclaimed New York City restaurants, Picholine and Artisanal. In this long-awaited cookbook, Brennan shares his approach to what he calls "artisanal cooking," reflecting a devotion to detail and reverence for the freshest ingredients, simple presentations, and an inspired blend of tradition and creativity, all of which leads to memorable meals at home.


Artisanal Cooking features 150 tantalizing recipes ranging from hors d'oeuvres and entrees - such as Miniature Grilled Cheddar, Apple, and Bacon Sandwiches; Soft-Shell Crabs with Mustard Sauce; and Beef Short Ribs with Olives and Orange-Cumin Carrots - to desserts, including Brennan's signature cheesecake and Chocolate Fondue. A cheese connoisseur, Brennan describes more than 30 of his favorites and suggests wines to pair with them. The cookbook is also a visual feast, with 75 lush color photographs by renowned food photographer Christopher Hirsheimer. Throughout, there are valuable tips that cooks can use to adapt Brennan's recipes or improve their own cooking, including:




TERMS AND TECHNIQUES: information about terms like "sweetbreads" and technique tips, such as a simple way to roll dough over a tart



THE REASON: explanations for why good cooks do things such as truss a chicken or let meats rest between cooking and serving



VARIATIONS: ideas for changing recipes to accommodate seasonal ingredients and personal taste



EMBELLISHMENTS: inventive ways to enhance the recipes


The book's extensive pantry section, including recipes and how-to photos, further illustrates Brennan's point that delicious meals start with quality flavors and elemental techniques. Taking pleasure in the ingredients and the process makes cooking - and sharing the results - a joy.
About the Author
TERRANCE BRENNAN is one of the nation's top chefs and the owner of Picholine, a Mediterranean restaurant; Artisanal, a bistro featuring updated French classics; and Artisanal Premium Cheese Center, through which he has increased the popularity of cheese nationwide. A two-time nominee for the James Beard Award for Best Chef in New York City (2002 and 2004) and a Food & Wine magazine Best New Chef, he has appeared on CNN, Martha Stewart Living, the Today show, CBS's Early Show, and the Food Network.ANDREW FRIEDMAN has authored or co-authored more than a dozen cookbooks with some of the nation's top chefs and restaurateurs, including Alfred Portale, Pino Luongo, Tom Valenti, and Michael Lomonaco. He is also the coeditor of Don't Try This at Home and has written for numerous publications, including O magazine.
Advertisement