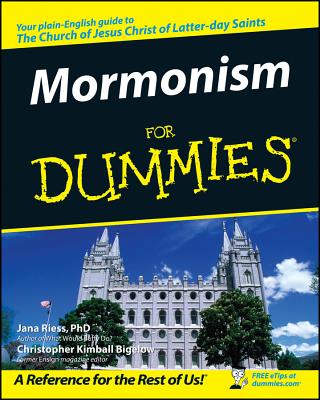 Mormonism for Dummies (Paperback)
For Dummies, 9780764571954, 365pp.
Publication Date: February 25, 2005
* Individual store prices may vary.
Description
Get the facts on temples, tithing, missions, and caffeine

Mormon doctrines, rituals, and history, demystified at last

Mormonism, or the LDS Church, is one of the world's fastest growingreligions. But unless you were raised a Mormon, you probably don'thave a clear picture of LDS beliefs and practices. Coveringeverything from Joseph Smith and the Book of Mormon to tithing andfamily home evening, this friendly guide will get you up to speedin no time.

Discover:
* How the LDS Church differs from other Christian churches
* What Mormons believe
* What happens in Mormon temples and meetinghouses
* The history of the LDS Church
* LDS debates on race, women, and polygamy.
About the Author
Jana Riess, PhD, has a doctorate in American religious history and is religion book review editor at Publishers Weekly. Christopher Kimball Bigelow is a writer and editor. Both are Mormons.