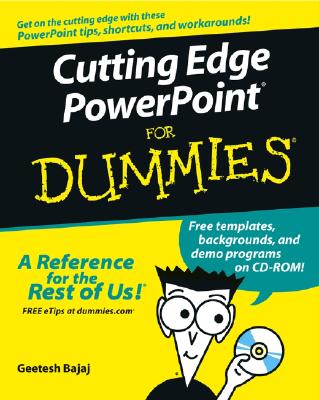 Cutting Edge PowerPoint for Dummies [With CD-ROM] (Paperback)
For Dummies, 9780764598173, 380pp.
Publication Date: August 1, 2005
* Individual store prices may vary.
Description
Use these great ideas to help you make your point

Create PowerPoint presentations with Flash(r) movies, Excel(r) charts, and more

Okay, you've PowerPointed before, right? And you knew there must be more cool things you could do? Here they are This handy guide gives you pointers on what makes a powerful presentation, tips on using the right formats and templates, and directions for dressing up text, wowing 'em with color, adding action, and much more.

Discover how to
* Tweak and streamline PowerPoint
* Get the most from color
* Avoid amateur mistakes
* Use shapes, fills, and 3D effects
* Add photos, soundtracks, and DVD video
* Deliver your presentation with punch.
About the Author
Geetesh Bajaj is based in Hyderabad, India, and he got started with his first PowerPoint presentation around a decade ago. He has been working with PowerPoint ever since. Geetesh believes that any presentation is a sum of its elements. Everything in a presentation can be broken down to this element level, and PowerPoint's real power lies in its ability to act as glue for all such elements. Geetesh contributes regularly to journals and Web sites, including Presentations magazine and the Microsoft.com Web site. He's also a Microsoft PowerPoint MVP (Most Valuable Professional) and a regular on Microsoft's PowerPoint newsgroups. It is from this newsgroup that many of the ideas and thoughts in this book were assimilated. Geetesh's own Web site at indezine.com has hundreds of pages on PowerPoint usage. It also has a blog, an e-zine, product reviews, free templates and interviews. Geetesh welcomes comments and suggestions about his books. He can be reached at geetesh@geetesh.com.
or
Not Currently Available for Direct Purchase