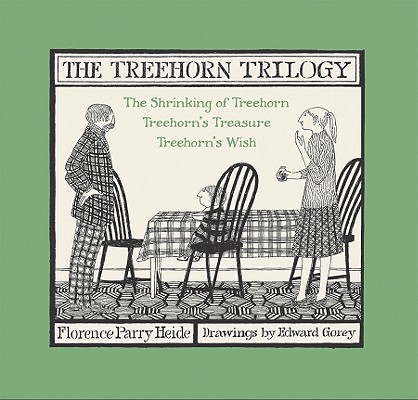 The Treehorn Trilogy (Boxed Set)
Pomegranatekids, 9780764959585, 3pp.
Publication Date: September 1, 2011
* Individual store prices may vary.
Description
Three stunning Edward Gorey classics, available in one volume. Featuring a clever-but repeatedly ignored-little boy named Treehorn, these stories will delight readers of all ages.
"In The Shrinking of Treehorn," Treehorn is clearly shrinking, and his parents aren't the least bit interested. "Treehorn's Treasure" shows what happens when the leaves on the backyard tree turn into dollar bills. And in "Treehorn's Wish," our hero's parents neglect his birthday-but he finds a genie in a bottle, which changes things considerably. Treehorn's angst, and his whimsical schemes, come alive through Gorey's witty pen-and-ink drawings and drolly humorous text by noted author Florence Parry Heide. This beautifully-crafted, tongue-in-cheek omnibus is the perfect gift for collectors and fans of Edward Gorey.