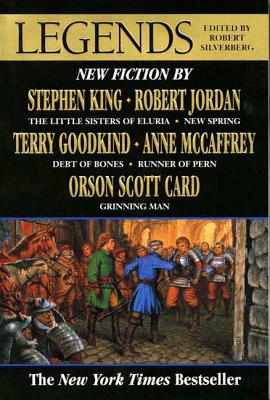 Legends (Paperback)
Tor Books, 9780765300355, 715pp.
Publication Date: September 8, 2001
Description
Acclaimed writer and editor Robert Silverberg gathered eleven of the finest writers in Fantasy to contribute to this collection of short novels. Each of the writers was asked to write a new story based on one of his or her most famous series: from Stephen King's opening piece set in his popular Gunslinger universe to Robert Jordan's early look at his famed Wheel of Time saga, these stories are exceptionally well written and universally well told. The authors include King, Jordan, and Silverberg himself, as well as Terry and Lyn Pratchett, Terry Goodkind, Orson Scott Card, Ursula K. Le Guin, Tad Williams, George R.R. Martin, Anne McCaffrey, and Raymond E. Feist.
About the Author
Robert Silverberg has written more than 160 science fiction novels and nonfiction books, and has edited over 60 anthologies. He published his first story in 1954 while just a sophomore at Columbia University; in 1956, he won his first Hugo Award, for Most Promising New Author. His works include the bestselling Lord Valentine trilogy and the timeless classics Dying Inside and A Time of Changes. Silverberg has won the prestigious Nebula Award an astonishing five times, as well as four Hugo Awards. He holds the additional honor of winning these honors in five decades, and he has been nominated for both awards more times that any other writer.
Praise For Legends…
"There's enough color, vitality and bravura displays of mythmaking in this rich sampler to sate faithful fans and nurture new readers on the stuff of legends still being created."—Publishers Weekly (starred review)

"An enjoyable sampler of the best high fantasy available today."—San Francisco Chronicle

"Best Anthology of the Year."—Rocky Mountain News

"A dream team . . . Legends is the rarest of the rare—an entire collection of original short novels by top fantasy writers . . . Here is a dab of each writer at the top, a worthy sampler that could yield a reader someone new to enjoy."—USA Today

"Orson Scott Card, Ursula Le Guin, George R. R. Martin, Anne McCaffrey, Robert Jordan, et al. It reads like a who's who of modern sf/fantasy writers. This anthology is a stellar compilation of new stories by 11 masters of the genre, with each tale set in a well-established and well-loved universe. Stephen King leads off with a grisly but compelling episode in the Dark Tower saga. Terry Pratchett's offering is an amusing incident in his Discworld series; editor Silverberg revisits the Majipoor of Lord Valentine; Tad Williams tells a haunting story that stems from his Memory, Sorrow, and Thorn trilogy; and Raymond Feist spins a poignant tale of revenge within his Riftwar setting. Fans of Jordan's massive Wheel of Time saga will be especially interested to learn just how Lan and Moiraine first met and how their search for the baby who would become the Dragon Reborn began. Silverberg sets the scene with a fine introduction to fantasy in general and the contributors in particular; each of the novellas is preceded not only by an introductory note on the saga involved but also by a listing of all the books in the series to date. What is so noteworthy about this collection is the fact that all the selections are first rate and are well integrated into their universes, making the book a bonanza not only for avid fans who are familiar with the various series and want more but also for less well read fantasy readers, who will find each story herein a great introduction to a writer's world."—Sally Estes, Booklist

"A superb Baedeker to the fantasy worlds of 11 of the field's finest writers."—Dallas Morning News

"Perhaps Legends, an anthology of brand-new novellas by nearly a dozen of the more-famous modern writers in the field, will help secure long-overdue respect. All the writing is of the highest caliber; and each of the tales is compelling. To top it off, artists such as Michael Whelan, Keith Parkinson and Erik Wilson have contributed illustrations that become icing on the cake. Legends makes for a fine road map to the worlds of 11 masters of the genre and serves as a perfect milestone for future fantasy anthologists. Silverberg has put together an anthology of which he and his fellow writers can be justly proud."—Des Moines Daily Register
Advertisement