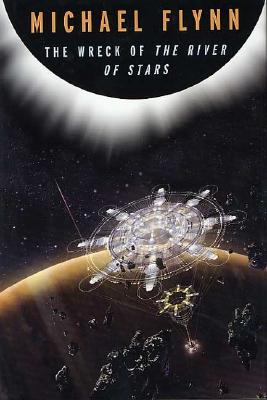 The Wreck of the River of Stars
Hardcover

* Individual store prices may vary.
Description
Michael Flynn has written the best SF in the tradition of Robert A. Heinlein of the last decade. His major work was the Firestar sequence, a four-book future history. "As Robert A. Heinlein did and all too few have done since, Michael Flynn writes about the near future as if he'd been there and was bringing back reports of what he'd seen," said Harry Turtledove. Now, in this sweeping stand-alone epic of the spaceways, Flynn grows again in stature, with an SF novel worthy of the master himself. Indeed, if Heinlein's famous character, the space-faring poet Rhysling, had ever written a novel, this would be it.

This is a compelling tale of the glory that was. In the days of the great sailing ships, in the mid-twenty-first century, when magnetic sails drew cargo and passengers alike to every corner of the solar system, sailors had the highest status of all spacemen, and the crew of the luxury liner the River of Stars, the highest among all sailors.

But development of the Farnsworth fusion drive doomed the sailing ships, and now the River of Stars is the last of its kind, retrofitted with engines, her mast vestigial, her sails unraised for years. An ungainly hybrid, she operates in the late years of the century as a mere tramp freighter among the outer planets, and her crew is a motley group of misfits. Stepan Gorgas is the escapist executive officer who becomes captain. Ramakrishnan Bhatterji is the chief engineer who disdains him. Eugenie Satterwaithe, once a captain herself, is third officer and, for form's sake, sailing master.

When an unlikely and catastrophic engine failure strikes the River, Bhatterji is confident he can effect repairs with heroic engineering, but Satterwaithe and the other sailors among the crew plot to save her with a glorious last gasp for the old ways, mesmerized by a vision of arriving at Jupiter proudly under sail. The story of their doom has the power, the poetry, and the inevitability of a Greek tragedy. This is a great science fiction novel, Flynn's best yet.
Praise For The Wreck of the River of Stars…
"Flynn's multivolume saga of near-future global peril combines space adventure with dynastic and political intrigue to create a complex drama with a large cast of characters and a too-plausible premise."--Library Journal

"An exciting new future history that brings back the sense of wonder and hope that's been lacking in so much recent science fiction."--Fantasy & Science Fiction
Tor Books, 9780765300997, 480pp.
Publication Date: April 1, 2003
About the Author
Michael Flynn is an Analog magazine alumnus whose fiction now appears regularly in all the major SF magazines. His major work of the 1990s was the Firestar series of novels.
or
Not Currently Available for Direct Purchase