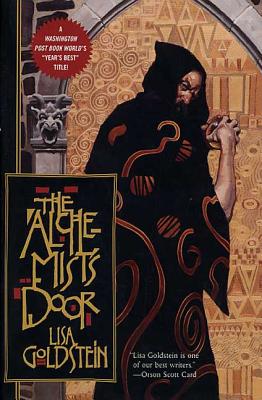 The Alchemist's Door
Paperback

* Individual store prices may vary.
Description
Scientist, mathematician, and court astrologer to Queen Elizabeth I, John Dee is also one of the sixteenth-century's most renowned alchemists, driven by a passion to fathom the elemental secrets of the cosmos. But when his reckless assistant, Edward Kelley, succeeds in using a crystal sphere to summon angels, Dee is catapulted into an awesome struggle that may extinguish the light of reason forever.

One of the spirits invoked is a cunning demon who takes possession of Dee's young daughter, Katherine, and shows Dee a frightening vision of his own future. Terrified by what has been foretold, Dee abruptly decides to close his house in London and flee to Europe with his long-suffering wife, Jane, and their two young children.

Their desperate flight brings them at last to the city of Prague--a center of culture, knowledge, and learning, both sacred and profane, a gateway between the Eastern and Western worlds, and also, it is whispered, a door between our world and the world of the spirits.

There, in the city's ancient streets, Dee encounters the mystic Rabbi Judah Loew, who enlists his aid in the creation of a Golem--a man fashioned from the clay--to defend the city's Jewish Quarter from persecution. And he asks Dee's help to avert a impending crisis that threatens to engulf the world. For ancient legends say that the fate of the world rests on shoulders of thirty-six righteous men. And if one of those righteous men dies before his time, the world will end and dark spirits will remake it in their own image.
Praise For The Alchemist's Door…
"Lisa Goldstein is one of our best writers. Indeed, with Tourists and A Mask for the General, I came to the conclusion that she simply was the best writer in our field today, bar none. Her view of reality is so quirky but true, her characterization so sympathetic yet brutally honest, her writing so extravagantly clear." —Orson Scott Card

"What an intriguing read this is! It is a substantial tale of angels and demons, fantasy and horror, set within a richly depicted historical milieu and fraught with an aura of foreboding that draws one in from the very first page." —Booklist (starred review)
Tor Books, 9780765301512, 288pp.
Publication Date: April 1, 2003
About the Author
Lisa Goldstein is the author of seven widely acclaimed novels, including The Dream Years, A Mask for the General, Strange Devices of the Sun and Moon, Tourists, Summer King, Winter Fool, and Dark Cities Underground, as well as numerous works of short fiction, recently collected in the anthology Travellers in Magic. Goldstein lives in Oakland, California.