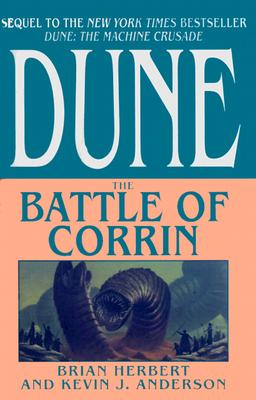 Dune (Hardcover)
The Battle of Corrin
Tor Books, 9780765301598, 624pp.
Publication Date: August 17, 2004
* Individual store prices may vary.
Description
Following their internationally bestselling novels "Dune: The Butlerian Jihad" and "Dune: The Machine Crusade," Brian Herbert and Kevin J. Anderson forge a final tumultuous finish to their prequels to Frank Herbert's "Dune."
"Dune: The Battle of Corrin"
It has been fifty-six hard years since the events of "The Machine Crusade." Following the death of Serena Butler, the bloodiest decades of the Jihad take place. Synchronized Worlds and Unallied Planets are liberated one by one, and at long last, after years of struggle, the human worlds begin to hope that the end of the centuries-long conflict with the thinking machines is finally in sight.
Unfortunately, Omnius has one last, deadly card to play. In a last-ditch effort to destroy humankind, virulent plagues are let loose throughout the galaxy, decimating the populations of whole planets . . . and once again, the tide of the titanic struggle shifts against the warriors of the human race. At last, the war that has lasted many lifetimes will be decided in the apocalyptic Battle of Corrin.
In the greatest battle in science fiction history, human and machine face off one last time. . . . And on the desert planet of Arrakis, the legendary Fremen of Dune become the feared fighting force to be discovered by Paul Muad'Dib in Frank Herbert's classic, "Dune."

About the Author
Brian Herbert, the author of numerous novels and short stories, has been critically acclaimed by leading reviewers in the United States and around the world. The eldest son of science fiction superstar Frank Herbert, he, with Kevin J. Anderson, is the author of "Hellhole" and continues his father's beloved Dune series with books including "The Winds of Dune," "House Atreides," "Sandworms of Dune," among other bestsellers. He also wrote a biography of his father, "Dreamer of Dune." Herbert graduated from high school at age 16, and then attended U.C. Berkeley, where he earned a B.A. in Sociology. Besides an author, Herbert has been an editor, business manager, board game inventor, creative consultant for television and collectible card games, insurance agent, award-winning encyclopedia salesman, waiter, busboy, maid and a printer. He and his wife once owned a double-decker London bus, which they converted into an unusual gift shop. Herbert and his wife, Jan, have three daughters. They live in Washington state.
or
Not Currently Available for Direct Purchase