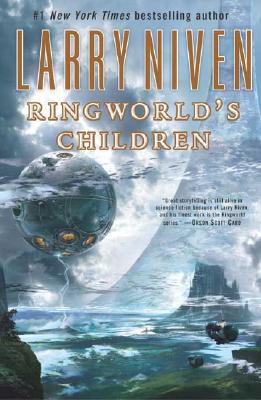 Ringworld's Children (Hardcover)
Tor Books, 9780765301673, 288pp.
Publication Date: March 24, 2005
* Individual store prices may vary.
or
Not Currently Available for Direct Purchase
Description
Welcome to a world like no other.

The Ringworld: a landmark engineering achievement, a flat band 3 million times the surface area of Earth, encircling a distant star. Home to trillions of inhabitants, not all of which are human, and host to amazing technological wonders, the Ringworld is unique in all of the universe.

Explorere Louis Wu, an Earth-born human who was part of the first expedition to Ringworld, becomes enmeshed in interplanetary and interspecies intrigue as war, and a powerful new weapon, threaten to tear the Ringworld apart forever. Now, the future of Ringworld lies in the actions of its children: Tunesmith, the Ghould protector; Acolyte, the exiled son of Speaker-to-Animals, and Wembleth, a strange Ringworld native with a mysterious past. All must play a dangerous in order to save Ringworld's population, and the stability of Ringworld itself.

Blending awe-inspiring science with non-stop action and fun, Ringworld's Children, the fourth installment of the multiple award-winning saga, is the perfect introduction for readers new to this New York Times bestselling series, and long-time fans of Larry Niven's Ringworld.
About the Author
Larry Niven is the multiple Hugo and Nebula Award-winning author of the Ringworld series, along with many other science fiction masterpieces. His" Beowulf's Children," co-authored with Jerry Pournelle and Steven Barnes was a" New York Times" bestseller. He lives in Chatsworth, California.
Praise For Ringworld's Children…
"Great storytelling is still alive in science fiction because of Larry Niven."
--Orson Scott Card

"For three and a half decades, nobody's done it better than Larry Niven.."
--Steven Barnes

"Niven is an undisputed master in the field.."---David Gerrold

"Ringworld's Children provides another fascinating and intriguing look at Ringworld, its implications, and its history, all while telling a fast moving page-turner."---L. E. Modesitt, Jr.

"Ringworld's Children is the most exciting Ringworld novel since the first, which makes it one of Larry Niven's best ever."---Spider Robinson

"If there isn't really a Ringworld out there somewhere, we ought to build one someday. Until then, we have Larry Niven's. A rich and fantastic story."---Fred Saberhagen
Advertisement