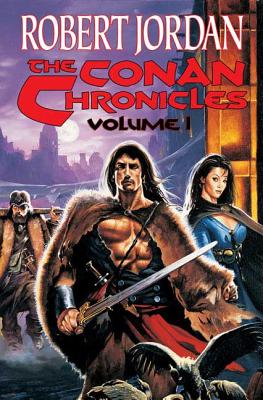 The Conan Chronicles (Paperback)
Tor Books, 9780765302885, 510pp.
Publication Date: December 26, 2006
Description
Three classic Conan novels from the #1 New York Times bestselling author of The Wheel of Time
Before Robert Jordan conquered the bestseller lists with the Wheel of Time, he revived the legendary fantasy hero Conan the Cimmerian. These widely acclaimed adventures introduced the world-famous barbarian to a whole new generation of enthusiastic readers. Here are three powerful sagas, featuring all the storytelling magic and epic splendor that have made Robert Jordan one of the most beloved fantasy authors in history.
Conan the Invincible Less than nineteen years old and new to the snares and enticements of civilization, the young Conan must join forces with a dangerously seductive female bandit to storm the palace of Amanar, a supremely evil necromancer, and confront the dreaded Eater of Souls.
Conan the Defender As revolution brews in the shadowy streets of Belverus, Conan braves the traps and treacheries of the Royal Palace of the Dragon. Pursued by the luscious and shameless Sularia, the mighty warrior challenges a magic-spawned menace that cannot die: the invincible Simulacrum of Albanus.
Conan the Unconquered Conan defies the sorcerous power of the Cult of Doom for the sake of a beautiful young woman known only as Yasbet. From the glory of fabled Aghrapur to the demon-haunted wastes of the Blasted Lands, Conan proves himself the greatest hero of a bygone era of high adventure.
About the Author
Robert Jordan was born in 1948 in Charleston, South Carolina. He taught himself to read when he was four with the incidental aid of a twelve-years-older brother, and was tackling Mark Twain and Jules Verne by five. He is a graduate of The Citadel, the Military College of South Carolina, with a degree in physics. He served two tours in Vietnam with the U.S. Army; among his decorations are the Distinguished Flying Cross with bronze oak leaf cluster, the Bronze Star with "V" and bronze oak leaf cluster, and two Vietnamese Gallantry Crosses with palm. A history buff, he has also written dance and theater criticism and enjoyed the outdoor sports of hunting, fishing, and sailing, and the indoor sports of poker, chess, pool, and pipe collecting.Robert Jordan began writing in 1977 and went on to write The Wheel of Time(R), one of the most important and best selling series in the history of fantasy publishing with over 14 million copies sold in North America, and countless more sold abroad.Robert Jordan died on September 16, 2007, after a courageous battle with the rare blood disease amyloidosis.
Praise For The Conan Chronicles…
"Robert Jordan, who added to the Conan saga before breaking fresh ground of his own, provided some of the most satisfying adventures since Howard himself. There aren't many writers who can produce exceptional work within the imagination of another, but Jordan is one of those rarities."--Science Fiction Chronicle
Advertisement