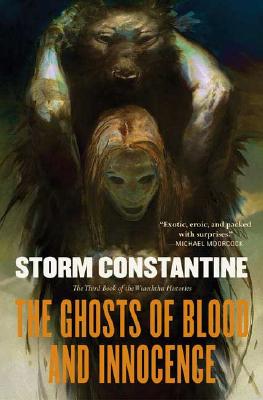 The Ghosts of Blood and Innocence (Hardcover)
Tor Books, 9780765303486, 460pp.
Publication Date: June 13, 2006
* Individual store prices may vary.
or
Not Currently Available for Direct Purchase
Description
Darquiel har Aralis lives among the hidden tribe of Olopade, in ignorance of his identity, and as he grows up, Darq realizes he is different from any other har. After a disastrous attempt to incept his closest friend, he attracts the attention of the mysterious Thiede, and learns that his origins are more astounding than he imagined.
Loki har Aralis is the favoured son of the Tigrons in Immanion, but he too is unaware of his real heritage. When he is kidnapped to the stark realm of Thanatep, he must learn to walk the secret ways between the worlds before he can escape.
The struggle between these two brothers is both powerful and mythic, and brings this cycle of Wraeththu history to a marvelous conclusion.
About the Author
Since "The Enchantments of Flesh and Spirit" first appeared in 1987 (and long before that), Storm Constantine's "cauldron" has produced a phantasmagoric array of creative works, everything from her best known piece, the Wraeththu trilogy, to Andrew Collins-inspired works like the Grigori trilogy and "Burying the Shadow," on down to fantastic visions like "Calenture," non-fiction books like "Egyptian Birth Signs," and dozens of short stories. Storm Constantine lives in England.
Praise For The Ghosts of Blood and Innocence…
"Storm Constantine is a myth-making Gothic queen, whose lush tales are compulsive reading. Her stories are poetic, involving, delightful and depraved. I wouldn't swap her for a dozen Anne Rices!" --Neil Gaiman

"No one navigates "the web of the wyrd" quite the way British author Constantine does, as shown in volume two of her second fantasy trilogy about the conflicts within a warring hermaphrodite race, the Wraeththu, The landscape, evocative of Mayan or Egyptian ruins, makes a great backdrop for characters struggling for love and transformation."--Publishers Weekly on The Shades of Time and Memory
"Storm has come back to her own with a gloriously gothic, passionate and romantic novel, one which has a need to tell its story. The richly thought out characters and landscapes at times dazzle the reader with their complexity and vitality, spread out over many levels and shades. …The Wraiths of Will and Pleasure is a joy to read and is Storm's finest and most confident novel for some time. It reaffirms her place as an author of immense talent and originality and is a welcome return to her original world. This novel is a must to any body interested in highly imaginative Fantasy."--SF Revu on The Wraiths of Will and Pleasure

"This book is complex yet very entertaining, as Storm Constantine provides incredible insight into her world. The story line is exciting with several subplots simultaneously moving forward adding to the feel of an upcoming calamity."--Book Bytes on The Shades of Time and Memory


"Storm Constantine provides a powerful look at several key players from her previous trilogy that her fans will appreciate as the Wraeththu universe keenly expands."--Bookbytes on The Wraiths of Will and Pleasure

"Constantine delivers a complicated and ultimately engaging novel sure to be embraced by existing fans."--Publishers Weekly on The Wraiths of Will and Pleasure
Advertisement