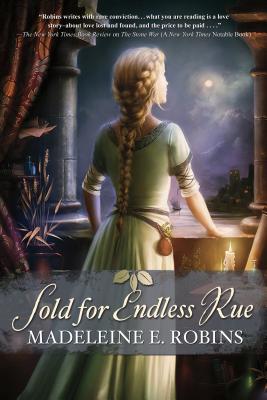 Sold for Endless Rue (Hardcover)
Forge, 9780765303998, 336pp.
Publication Date: May 14, 2013
* Individual store prices may vary.
Description
After a blighted childhood, young Laura finds peace and purpose in the home of a midwife and healer. Later, she enrolls in Salerno's famed medical school-the first in the world to admit women. Laura and her adoptive mother hope that Laura can build a bridge between women's herbal healing and the new science of medicine developing in thirteenth century medieval Italy.
The hardest lessons are those of love; Laura falls hard for a fellow student who abandons her for a wealthy wife. Worse, her mother rejects her as "impure." Shattered, Laura devotes herself to her work, becoming a respected medico. But her heart is still bitter, and when she sees a chance for revenge, she grabs it-and takes for her own Bieta, the newborn daughter of a woman whose husband regularly raided the physician's garden for bitter herbs to satisfy his pregnant wife's cravings.
Determined to protect her adored daughter from the ravages of the world, Laura isolates the young woman in a tower. Bieta, as determined as her mother, escapes, and finds adventure-and love-on the streets of Salerno.
Bieta's betrayal of her mother's love comes at a terrible price as lives are ruined and families are torn apart. Laura's medical knowledge cannot heal her broken heart; only a great act of love can bring everyone forgiveness and peace, in Madeleine E. Robins's imaginative novel set during the Middle Ages, "Sold for Endless Rue,
About the Author
MADELEINE E. ROBINS is the author of the New York Times Notable Book The Stone War and other novels. Her short fiction has appeared in The Magazine of Fantasy & Science Fiction and various anthologies, including Lace and Blade. A graduate of Clarion, she is a founding member of Book View Cafe, where she blogs regularly. Robins, who is an excellent decorator of cakes, lives in San Francisco with her husband, their younger daughter, and a very energetic dog.
Praise For Sold for Endless Rue…
"Robins writes with rare conviction….what you are reading is a love story—about love lost and found, and the price to be paid when people ignore the human disasters in their midst."
—The New York Times Book Review on The Stone War (New York Times Notable Book)

"When Madeleine Robins wakes the stone lions in front of the New York Public Library, it is the hand of a master at work. The Stone War is American magic, superbly told."
—Maureen F. McHugh

"A fascinating heroine...[and] equally intriguing secondary characters. Politics, deception, danger, and a bit of romance all come together beautifully in this superb debut."
—Booklist on Point of Honour

"Doesn't have any of the hallmarks of fantasy but still seems to scratch the reader's fantasy itch. Strictly speaking, Sold for Endless Rue is a historic fable. Robins's storytelling is a force, as is her knack for rich detail. The language is lush and you fall into this created world. Robins's work is lovely and rich. Crescia and Bieta make the story come alive when they are on the page and pull the reader into a well-imagined slipstream of history."—Locus
 
"Characters much more rich than any found in a Grimm story. Medieval life and medicine are well-researched and richly described, and Robins is very clever in her adaptation of the fairy tale."—Historical Novel Society

or
Not Currently Available for Direct Purchase