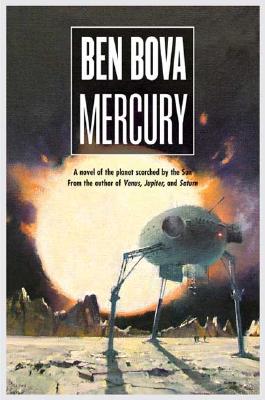 Mercury (Hardcover)
Tor Books, 9780765304124, 320pp.
Publication Date: April 14, 2005
Other Editions of This Title:
Digital Audiobook (4/30/2005)
Mass Market (3/7/2006)
Compact Disc (4/14/2005)
* Individual store prices may vary.
Description
The closest planet to our Sun, Mercury is a rocky, barren, heat-scorched world. But there are those who hope to find wealth in its desolation.

Saito Yamagata thinks Mercury's position will make it an ideal orbit point for satellites that could someday create enough power to propel starships into deep space. He hires Dante Alexios to bring his dreams to life. Astrobiologist Victor Molina thinks the water at Mercury's poles may harbor evidence of life, and hopes to achieve fame and glory by proving it. Bishop Elliot Danvers has been sent by the powerful Earth-based "New Morality" to keep close tabs on Molina's endeavors, which threaten to produce results contrary to fundamentalist teachings.

Three of these men are blissfully unaware of their shared history and how it ties into one of mankind's greatest tragedies. Years before, visionary engineer Mance Bracknell made his own attempt to help man progress into space by building a ladder to the stars: a glistening tower stretching thousands of miles into the air, anchored by spans of steel to a satellite in geosynchronous orbit. But technological endeavor was no match for human passions, and greed and jealousy provoked terrorists to an act of sabotage that resulted in the death of millions.

There's no telling how many more will have to die before Mance has his revenge...
About the Author
A six-time winner of science fiction's Hugo Award, a former editor of "Analog" and former fiction editor of "Omni," and a past president of the National Space Society and the Science Fiction Writers of America, Ben Bova is the author of over a hundred works of science fact and fiction. He lives in Florida.
Praise For Mercury…
"With Isaac Asimov and Robert Heinlein gone, Bova, author of more than 70 books, is one of the last deans of traditional science fiction. And he hasn't lost his touch. Venus scorches."
--Kansas City Star on Venus

"Recalls the work of Heinlein in his Destination Moon mode, or Hal Clement in any number of stories: a day-after-tomorrow tale crafted with near-journalistic purity...It's a difficult, demanding mode to pursue, and not many choose to nowadays. But Bova does it magnificently."
--Paul Di Filippo, Scifi.com, on Jupiter

"Bova gets better and better, combining plausible science with increasingly complex fiction."
--Los Angeles Daily News
or
Not Currently Available for Direct Purchase