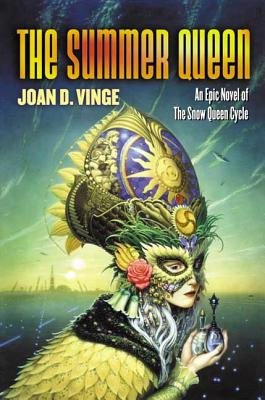 The Summer Queen
An Epic Novel of the Snow Queen Cycle
Paperback

* Individual store prices may vary.
Other Editions of This Title:
Mass Market Paperback (12/1/1992)
Description
Sequel To The Hugo Award-Winning Bestseller The Snow Queen

The Summer Queen is the extraordinary sequel to one of science fiction's most celebrated novels, The Snow Queen. Set in a fully realized universe of wonders, this spectacular space epic, itself a finalist for the Hugo Award, is one of the most remarkable novels in the field.

A story that spans millennia, from the ruins of an ancient interstellar empire to the planets of the Hegemony that rules human space, The Summer Queen is the multi-layered story of Tiamat, a world where the dolphin-like mers are harvested for the youth-prolonging serum extracted from their blood. But Tiamat is much more, for beneath Carbuncle, its capital, lies the old empire's greatest secret: an enormous forgotten technology which, though decaying, continues to affect the fates of the fallen empire's remnant cultures via the sybil-network--a data bank that binds the past and the future in its web of knowledge, As the Smith, genius mastermind of the hidden interstellar Brotherhood, tries feverishly to unlock its secrets, BZ Gundhalinu desperately strives to save the Hegemony, while the Summer Queen herself dares to create a new future for her people and her planet. And though each is acting alone, their fates will entwine in an astonishing climax that will change the universe forever.
Praise For The Summer Queen: An Epic Novel of the Snow Queen Cycle…
"As large and splendid as its predecessor." —Chicago Sun-Times

"Vinge has written a book which is a true sequel to The Snow Queen, and it's a winner. The Summer Queen is more complex, richer, and in the end more rewarding than The Snow Queen. Totally satisfying. This is the kind of book that could only be science fiction: the kind of book we're all richer for having in our field." —Tom Whitmore, Locus

"A sequel even more successful than the works that preceded it. Given that The Snow Queen won the 1981 Hugo for best novel, this is high praise indeed." —Philadelphia Inquirer

"The long-awaited sequel to Vinge's enormous The Snow Queen. . . . An absorbing and satisfying performance." —Kirkus Reviews (starred)
Tor Books, 9780765304469, 688pp.
Publication Date: May 1, 2003
About the Author
Joan D. Vinge wrote the Hugo Award bestseller The Snow Queen, sequels including the Hugo finalist The Summer Queen and the Nebula finalist World's End, and the Cat series. She's written more than a dozen movie adaptations, including the #1 bestseller The Return of The Jedi Storybook. She lives in Madison, Wisconsin.